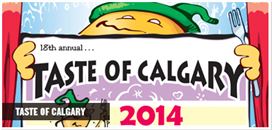 August 14 - 17 - Taste of Calgary, the city's outdoor festival of food and drinks is back for its 18th year at Eau Claire's Festival Plaza from Thursday, August 14 through to Sunday August 17. Enjoy a mix of exotic global cuisine like Cajun, Caribbean, East Indian, and Persian.
Buy sampling tickets for $1 each at the festival and use them to sample any of the food or beverage menu items.

August 16 - Yogathon 2014 - Rise for a Cause, a fundraiser, is a platform that enables Yoga enthusiasts to stretch out in sun salutation to spread the message of peace through yoga and in support of our 'Care for Children' project. Care for Children, an educational project that provides holistic education with an emphasis on social responsibility and human values to children in under-served communities. All the funds raised from Yogathon will go to this cause.
Preregistration is required to participate: http://www.yogathon.org/register/

August 16 - The 7th annual Spaghetti Western Festival features 9 Alt-Country artists playing at Olympic Plaza. Curated and kicked-off by Calgary's talented Matt Masters, the festival features a day of great country music. Several artists will also be playing noon-hour performances on Stephen Avenue, look for the stage by the Telus Convention Centre & Milestones on 8th Avenue SE.

August 11 - 15 - The Human Rights Forum presented by TD has been offered since 2007 as part of GlobalFest's programming to promote diversity, cross cultural respect, and equality in our community. Our annual Human Rights Forum topics are structured around the UNESCO's Coalition of Municipalities against Racism and Discrimination.

August 16 - Country duo Wildflower release their new CD at Wine-OHs. $15 at the door
In the varied landscape that is today's Canadian music scene, Wildflower stands out bringing a unique blend of folk-roots & rock to their own brand of country music. As with most musical journeys, Wildflower started with a song. Singer-songwriters Jennie Clarke (vocals) and Dean Selby (vocals, guitar) first met in a Calgary recording studio in 2012, and an instant chemistry and creative connection emerged.
---