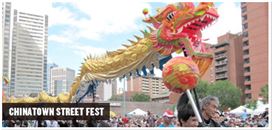 Saturday, August 9th - Each year, Calgary's Chinatown Street Festival attracts an estimated 50,000 people, including children, families, and adults from all across Calgary. Calgarians join together to celebrate our city's cultural diversity and to enjoy and experience the best of what Chinatown has to offer, in forms of shopping, food, culture and a sense of community pride.

Saturday, August 9th - The Afrikadey! Arts & Culture Society shares the rich creative works of African cultures - from the continent and throughout the Diaspora - with Canadians of all ages and from all walks of life. The society creates and stages events that bring these artistic traditions to vibrant, joyous life for audiences who might otherwise not get to experience them.

Canadian Artists for the Poor Art Walk
The Canadian Artists for the Poor Art Walk will be set up along Stephen Avenue showing off Canadian art. Proceeds benefit those living in extreme poverty. From 10am to 5pm

MAZ will be performing a free show at Wine-Oh's in Calgary. The night will open with Nathan Godfrey at 7PM, followed by MAZ, which will hit the stage at 7:45PM.

The #IAMDOWNTOWN stage is back on Stephen Avenue. Join us for great local talent, as well as some future superstars! All performances will be at on the 100 East block of Stephen Avenue (8th ave) between Milestones Restaurant and the Telus Convention Centre. This week's performance features the Prime Time Big Band and kicks off at 1:30 pm. FREE & open to the public/family friendly
---