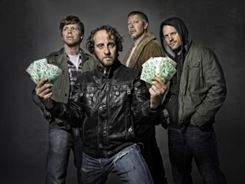 It's 1989. ATMs are the new thing and Dick (Ryan Luhning) has a great idea on how to pull a job to get tons of money. He recruits his freshly out of jail friend Bug (Haysam Kadri) and the brains of the job Donnie (Joel Cochrane). To pull everything together, he also convinces the young Billy (Adam Klassen), who has never done time, to help him pull off the crime. This is the set up for Ground Zero Theatre and Hit & Myth production of High Life. It is a play with stellar performances and outstanding direction that tells a none too complex story.
Set on the stage of the Vertigo Studio Theatre, designed by JP Thibodeau, the play opens to Dick and Bug drinking beers and getting high. Dick slowly draws Bug into hearing his new crime idea. They discuss people from their past, who is dead, who is not. It is revealed that Bug has killed a lot of people and been caught. Director Ron Jenkins has the play move along quickly and makes transitions really smooth and introduces the audience to both Donnie and Billy, talking to Dick separately, about their involvement in the scheme.
High Life is a violent play, centering on these four guys who are all driven by addiction. The threat of violence comes from Bug, and Jenkins manages to have Kadri be completely menacing and intimidating. Kadri's performances is stellar, especially his expression when everyone is sitting in a stolen truck, waiting to complete the crime and a cop passes by. The most standout performance comes from Cochrane. He pulls off neurotic and nervous Donnie, his socks peeking out from his pants the whole time, slightly geeky but still a criminal. Cochrane is precise in his portrayal of Donnie. Luhning is solid in his portrayal of Dick. The weaker link is Klassen, as his performance is not as solid when compared to the other three.
There are only a couple details that could have been left out. The production includes projections of the timeline, which is not needed as the audience can deduce timelines without it. The setting of the house that Dick is living in is too clean to really believe that he lives there.
High Life is a play that features some great performances and a story of crime, drugs and violence. Not bad for a couple hours at the theatre.
Ground Zero Theatre and Hit & Myth production of High Life runs until September 20th. More information is available online.
---