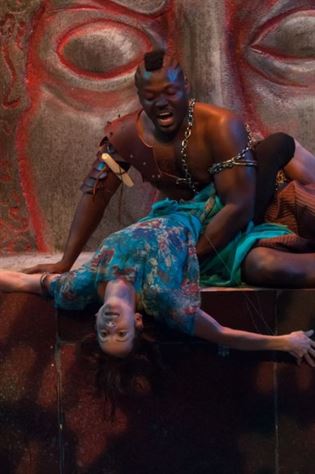 Shakespeare's Titus Andronicus is one of the bard's earliest tragedies. It's filled with revenge, rape, and murder. And blood was everywhere at The Shakespeare Company, Ground Zero Theatre and Hit and Myth's production of Titus Andronicus. Their slogan of 'blood will reign down' is pretty accurate within the play on words. 
Shakespeare's tragedy, set in the Roman Empire tells of Titus (Robert Klein), a victorious general in the Roman Army who comes home and winds up in a war of revenge with Tamora, Queen of the Goths (Natascha Girgis), turned Empress. Tamora seeks to avenge the death of her son whom Titus refuses to spare. To this end the Andronicus family suffers the rape and mutilation of daughter Lavinia (Leanne Govier) and the murder of her betrothed Bassianus (Luigi Riscaldino). Aaron (Edward Ogum) framed Titus's sons Mutius (James Cowley) and Quintus (Brandon David) for the murder and managed to cut off Titus's hand, promising that their lives will be spared. They aren't. This leads to a vicious circle of murder and revenge.
To begin with, as one of Shakespeare's earliest scripts, it offers a lot of killing and blood but it isn't very complex in comparison to his later tragedies. But the play does illuminate the circle of revenge and how one act of recklessness can lead to barbaric revenge. The key aspect is to feel a strong, unyielding connection to the characters on stage. To this end, this production manages an adequate connection, but not enough for the audience to reach into the core of the play.
Klein's performance as Titus is solid as is Joel Cochrane as Marcus Andronicus but Govier's Lavinia is disconnected. Govier tends to shout her lines a little too much and her performance after she is ravaged, is a little wooden. Girgis's Tamora just doesn't quite push over the edge of evil. She doesn't quite exude malice and evil as she should. Ogum's Aaron is powerful, and he takes joy in telling everyone that he wishes he had committed a thousand more acts of evil.
C.M Zuby's set design illustrates the themes of the play, the design outlined in red, and Peter Moller's sound design helps to draw out the violence. Carrie Hamilton's costume design centers the play in Roman times.
This production of Titus Andronicus puts all the pieces in place and tells the tragic story. But the connection is missing, making this performance good, but not outstanding.
The Shakespeare Company and Ground Zero Theatre, with support from Hit and Myth Productions presentation of Titus Andronicus runs until October 5th. More information is available online.
Photo: Natascha Girgis (Tamora) and Edward Ogum (Aaron) Credit: Benhamin Laird Arts & Photo
---