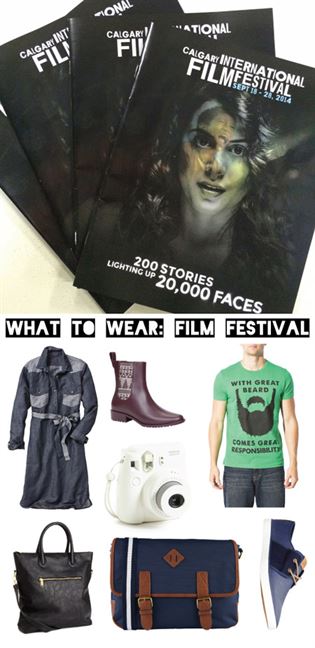 The Calgary International Film Festival kicks off this Thursday September 18th and the city is buzzing with excitement. With so many fantastic films showing up in Calgary for this epic annual event, you'll want to look great as you jaunt from film to film and gala to gala. While you'll want to step it up a notch for the galas, I've found some cool items for regular programming.
It may be a bit of a stereotype but if you've gone to any film festivals in the past few years, you've probably noticed the insane amount of bearded men in attendance. This quippy tee from Bluenotes is the perfect way to let people know you are serious about your beard-maintenance.
Keep it cool and comfortable going straight from work to the theatre with this great denim shirtdress. Dress it up with a glitzy necklace and a leather jacket or dress it down with an army green trench and simple flats.
Capture all of your favourite moments on the red carpets with your best friends on film. The Fuji Instax camera is so much fun to tote around with you, making memories wherever you go. It is an excellent conversation starter so make sure you bring it to film-maker in attendance events at the festival.
Keep your feet stylish and comfy as you marathon through multiple films in one evening. For the guys, these great two-tone sneakers will be keep you on your toes as you run back and forth from the concession stand for more popcorn. The trendy oxblood Chelsea-style boot goes with just about everything from dresses to jeans meaning you won't have to think twice about what to wear as you hit shorts film packages to feature lengths.
You both need something to stash your program guide and extra movie snacks in, why not pick up something stylish to keep yourself looking great. The black tote and the navy messenger bag are both great options for toting your movie-going gear around downtown.
Where to Shop:
Great Beard Graphic Tee, Bluenotes
Colourblock Western Shirtdress, Gap
Risto Sneaker, Aldo
Scarpitti Boot, Little Burgundy
Black Handbag, H&M
White Fuji Instax Camera, BLACKS
Starkville Messenger Bag, Spring Shoes
---