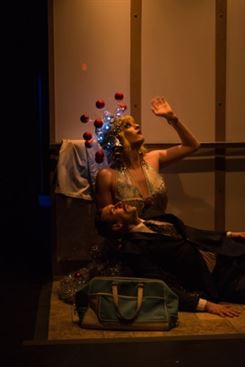 When the play With Bells On by Darrin Hagen premiered at Lunchbox Theatre back in 2009, it was a hit. It has since been produced in Edmonton and has been nominated for 3 Sterling Awards. The play just recently made its European premiere last year and it only seems fitting that for Lunchbox Theatre's 40th season they would bring the play back.
Darrin Hagen originally didn't plan for With Bells On to be a Christmas play. 'She' was described to be dressed like a Christmas Tree, to illustrate her over the top outfit, but in workshop he decided to have She actually dressed like a Christmas Tree. Hence we have Paul Welch, dressed like a Christmas Tree, complete with platform shoes as a giant drag queen. Playing opposite him is Stafford Perry as 'He', a lonely man, recently going 'through a transition' and feeling isolated in the process. The two strike up an unlikely connection while stuck in the elevator of their apartment.
What makes With Bells On work is that the dialogue of the play never feels forced. It is quite natural and even has those awkward pauses and the true to life desires of not quite being sure how much to reveal or how to open up. Both characters are well written. She is a giant drag queen with a giant personality to match her outfit, but she also reveals that sometimes she speaks before she thinks. He feels like he holds back all the time and never quite manages to go for what he wants.
With Bells On does take a bit of a turn towards the end that is quite a leap, but the interaction between these two and the charm of the entire narrative allows the audience to suspend their disbelief for that moment.
Welch is funny and fantastic as She. He is over the top but remains within the realm of believable. He navigates the shoes and his outfit quite nicely and also keeps his voice within character the whole time. Perry demonstrates his flexibility in this role, being the uptight lonely one who not stereotypical or boring. His dancing is also compelling.
With Bells On is fun and charming, with strong compelling characters. If you have the chance and the entire run doesn't sell out, go see it.
Lunchbox Theatre's With Bells On plays until the 24th. A lot of shows are sold out. Visit their website for more details.
Photo Credit: Benjamin Laird
---