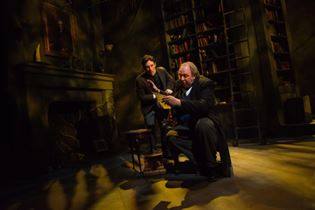 In this room, they may not hear you scream.
If you like ghost stories, then Vertigo Theatre production of The Haunting, a chilling story adapted by the ghost stories of Charles Dickins by Hugh Janes and deftly directed by Craig Hall, is for you.
In the play David Filde, (Stafford Perry) a young bookseller has come to Lord Gray's (Grant Linneberg) decrepit mansion to value the books of the Late Lord Gray. The room he is working in is cold and musty and it's not just because of the snow coming into the connecting hallway. The room seems to be haunted by a bride, pleading for help. She knocks books off shelves and appears in the windows. At first Lord Gray thinks that Filde is taking him to be a fool, but after some time comes to believe as well, that the room is haunted.
The Haunting does a very good job of keeping on the fine point of fear and belief. The audience has to buy into the ghost story and be so involved in the story that they jump out of their skin every once in a while. Perry and Linneberg are instrumental in bringing humanity to their characters and drawing the audience in. Narda McCarroll's set design has branches lining the top of the room so that John Webber's lighting design casts shadows everywhere. When you add Andrew Blizzard's haunting sound design, you have yourself a well put together ghost story, that will have you freaked out every once in a while.
But The Haunting has a good spine to keep you intrigued and asking questions. What happened to the bride? Is she really a ghost? Why can only David see her?
Nothing about the ghost story at the heart of this production feels cheap. And that's what makes it so strong.
Vertigo Theatre's The Haunting runs until April 12th. More information is available online.
---