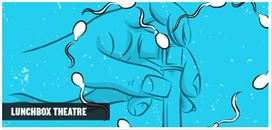 Speed Dating for Sperm Donors by Natalie Meisner
Helen and Paige are ready to take the leap to motherhood but they are going to need some help. When Helen's best friend turns them down as a donor, they embark on a crazy journey to find the perfect man to father their children. And like any search for the "perfect man", they discover you have to kiss a lot of frogs before you find your prince!
Marcus Roberts is known around the world for his creative, virtuosic and powerful jazz piano style. Not only is he a man set apart in his genre due to his exceptional talent, but also for the challenges that he's had to overcome due to his childhood blindness.

In No Great Hurry follows innovative colour photographer Saul Leiter as he deals with the triple burden of clearing an apartment full of memories, becoming world famous in his 80s and fending off a pesky filmmaker.

Dav Pilkey Live at the Library
Turbo Toilets, Captain Underpants and Other Serious Stuff with Dav Pilkey - Join the hilarious Dav Pilkey, author of the bestselling 'Captain Underpants' series for an entertaining presentation. Books will be available for purchase.

In support of Calgary Meals on Wheels, the fourth annual YYC Hot Chocolate Fest will run February 1-28, 2015. YYC Hot Chocolate Fest celebrates the creativity of local eateries competing to create Calgary's best hot chocolate.
Downtown Calgary participants for 2015:
The Bean Stop @ Eau Claire Market
Trib Steakhouse
Swine & Sow Wine & Ale House
Murrieta's Bar & Grill
Thanks for reading! Want to get great events email to you every Monday morning? Sign up for the Downtown Calgary Events Newsletter.
---