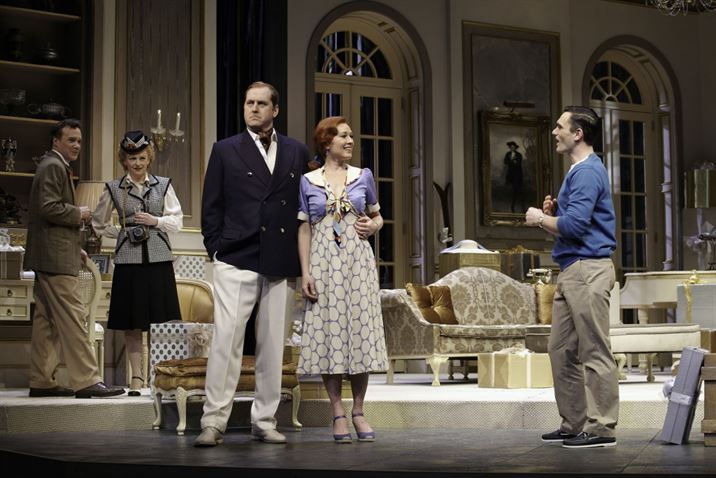 Tracy Lord is getting married. The grand house is a complete mess of presents, and it is revealed that this isn't Tracy's first time. It better work better than 'the other time,' as her previous marriage to Dexter Haven of 10 months is referred to. The setting is Philadelphia, 1939 and we get to peek into the lives of the incredibly wealthy Lords. We're not the only ones who want to peek in. It turns out that reporter Mike Connor and photographer Liz Imbrie are coming in to report of Tracy's wedding instead of publishing a scandalous article on Tracy's father, Seth Lord.
Got that? Theatre Calgary's presentation of The Shaw Festival production of The Philadelphia Story is slow to get off the ground in the first 20 minutes or so. There are a lot of names to keep track of and there is only a slight seed of a conflict that arises. Dinah Lord (Tess Benger) calls Tracy's ex husband Dexter (Gray Powell) and tells him that Tracy wants him to come for lunch, on the day before Tracy's wedding to George Kittredge (Thom Marriott). The play introduces reporter Mike Connor (Patrick McManus) and photographer Liz Imbrie (Fiona Byrne) who are sure to stir the picture perfect couple, and they do, but not in the way that you would think. The very smart Tracy cleverly gets them to reveal things about themselves, ducks and weaves amongst the conversation and its all quite intriguing but we, as an audience still don't quite have a conflict.
Then Seth Lord (Ric Reid) shows up and Tracy has an intense conversation with Dexter and everything starts to heat up on stage. For someone going into her second marriage, Tracy is quite affected by the words of her father and her ex. But they are quite powerful words, alluding to her complete intolerance for human frailty and how her foot has never slipped because her inner dynasty won't allow it. It is quite the commentary not only of Tracy Lord, but of playwright Philip Barry on the wealthy of that time. Tracy is said to be made of bronze and missing one essential quality: an understanding heart.
Tracy then spends the entire second half of the play proving her humanity and ability to let her foot slip. Aided by drink she grows from her position as steady bride-to-be in the first half, to completely insecure bride-to-be in the second half. It's quite compelling to watch her struggle with how everyone else views her and her inability to take a misstep. It makes up for the dragging of the narrative in the first half and the amount of time it takes to set up the full story. The narrative runs quite deep, once it gets going.
William Schmuck's costume and set design is elaborate and grand, to match the story. Moya O'Connell as Tracy Lord is a stand out performance and Powell does quite the transformation as Dexter.
The Philadelphia Story is a tale about things not being quite as they seem.
Theatre Calgary's presentation of The Shaw Festival Production of The Philadelphia Story runs until February 22nd. More information is available online.
Photo: (From left to right) Patrick McManus, Fiona Byrne, Thom Marriott, Moya O'Connell, Gray Powell in The Philadelphia Story.
Credit: Trudie Lee.
---