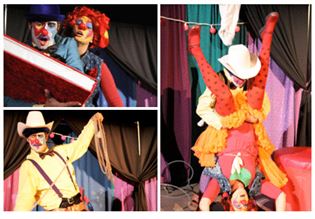 Jed Tomlinson and Jacqueline Russell are back on stage as Spark and Sizzle, just in time for Valentine's Day. After endless years of marriage, Sizzle and Spark are trying to inject some romance into their relationship. The Sama Kutra premiered in the Calgary Fringe Festival and traveled to the Edmonton Fringe Festival last year and is now back in Calgary for a five show run. Dead Pigeon Productions is remounting it as one of their artistic goals is "to expand the appetite for clowns in Calgary and Alberta," Tomlinson says. "A different audience [goes] to the Fringe in the summer in Calgary vs the winter theatre audience," Russell explains, "it was so vastly popular in the summer that we were like hey! maybe there is a whole other group of people who didn't see it in the summer who wants to."
Dead Pigeon Production started the creation of The Sama Kutra a year ago, working with Michael Kennard and John Turner (of Mump and Smoot) to create a show "with a storyline and arc and emotional journey," Tomlinson describes. "We wanted it to be a play that wasn't just about sex, that also had heart."
The play explores "how we maintain  a healthy sex life in an overly sexual society." But it also features a heart shaped bed that transforms into a kinky boudoir.
"We haven't really had good clown sex in 6 months," Tomlinson jokes when asked what he's excited about in remounting the show in Calgary. Mump and Smoot were just in town, and they "have been paving the way for adult clown. So hopefully the audience's palette has been sufficiently 'whetted', and they will be craving more."
Dead Pigeon Productions presents The Sama Kutra running from February 11th - 14th at Lunchbox Theatre. More information is available online.
---