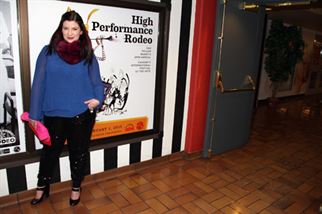 I love theatre and I always look forward to One Yellow Rabbit's High Performance Rodeo, which happens every January just as the weather gets really bad and it becomes the perfect time to retreat indoors and enjoy some live performances.
Even though I've been attending for years, I've never covered the event or attempted to street style, until this year, that is. I found some lovely people adorned in their theatre best, showcasing various personal styles that were perfect for the festival.
I encourage everyone to attend next year, as there's always something that really blows me away - this year it was The Girl with Two Voices by Alan Williams - and there's always a great bunch of people to meet and enjoy shows with, as well as the perfect staging to admire some great personal style and showcase your own.
This slideshow requires JavaScript.
---