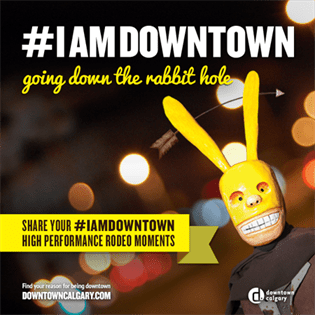 The 29th annual High Performance Rodeo takes place from January 7th to February 1st, 2015.
If this is your first rodeo, so to speak, then allow us to fill you in on what might be known as the Greatest Indoor Show on Earth (or any other planet). The High Performance Rodeo is a month long (well, 26 days) festival of performance art, dance, music, theatre and more.
One Yellow Rabbit searches the city, province, country and globe for the best in performance art. Many performances transcend genre and convention, and this year will be no exception. Some notable events happening in Downtown Calgary include:
Carillon Celebration - singer/songwriter Kenna Burima has composed a piece of music for the Calgary Tower's Carillon. The carillon is responsible for the chimes you might hear around downtown at Noon. The composition will play at 12 Noon every day during the festival, with a special live event happening on January 8th. More Information
Multiambient Urban Trees Soundscape - Experimental electronic musician Tona Ohama has composed the first ever score for the Trees on Stephen Avenue Walk. Keep your ears open for the ambient sounds in the outdoor space outside Banker's Hall on 8th Avenue SW. More Information
Chelsea Hotel: The Songs of Leonard Cohen - Leonard Cohen's powerful and inspirational music is the heartbeat of Chelsea Hotel. With extraordinary new arrangements, six performers play seventeen instruments in this concert, a tribute to the remarkable writer. This show takes place at the Martha Cohen theatre and is definitely more than just a tribute show. More Information
[email protected] - The ProArts society brings world class music to the Cathedral Church in downtown Calgary year round, for FREE Noon hour concerts. However, during the High Performance Rodeo takes over and things get a bit more interesting… There are three shows happening each Wednesday during the festival. Shows are at noon and are FREE to the public! Bring your lunch and enjoy some one-of-a-kind cultural experiences. More Information
There's so much to check out at the High Performance Rodeo, you'll have to visit their website to ensure you wrap your head around the entire festival.
---