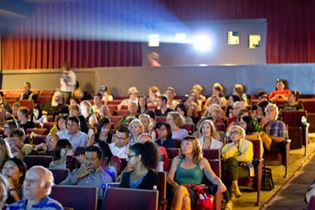 This is a guest blog post. CIFF Features Programmer Brenda Lieberman gives a run down of the contemporary Canadian cinema film festival showing at the Globe this February.
All of us at the Calgary International Film Festival (CIFF) are so excited to be screening the TIFF Canada's Top 10 Film Festival at Globe Cinema later this month.
Some of these films played at CIFF last September, – including MOMMY, MAPS TO THE STARTS, TU DORS NICOLE and MONSOON – and are some of my favourites from 2014.
I particularly loved TU DORS NICOLE (YOU'RE SLEEPING NICOLE), a black and white French film from Quebecois director Stéphane Lafleur, which focuses on the post-graduate summer of a 22-year-old woman staying at her vacationing parent's house in her small hometown.
The other titles on this list – FELIX AND MEIRA, IN HER PLACE, SOL, THE PRICE WE PAY and CORBO, as well as the short film packages – will have their Calgary premiere.
The Toronto International Film Festival (TIFF) has been curating the TIFF Top 10 since 2001, and this year Calgary audiences will be able to see the films presented as a cohesive package. A panel of filmmakers and industry professionals from across Canada select the titles and the films are intended to highlight the best in contemporary Canadian cinema.
The great thing about this package is the wide spectrum of films it showcases, the diverse themes presented, the filmmaking styles explored, and the range of directors it features.
Some are first time filmmakers, such as the director of CORBO Mathieu Denis. Others are some of Canada's most celebrated filmmakers, including the newest French-Canadian auteur Xavier Dolan and master director David Cronenberg.
I have always been a huge fan of Canadian cinema. While it's common for people to roll their eyes when I share this, with the increased quality and diversity of Canadian films being produced each year, more and more people are realizing that Canadian cinema is nothing to scoff at.
As the programmer of the Canadian series for CIFF I watch a lot of films from Canada, and each year I'm impressed by the number of submissions we receive, and the quality of films we're able to program.
Come out to Globe Cinema from Feb. 20-26 and experience the best in Canadian Cinema. See the diversity in our filmmakers and celebrate the remarkable work that is being produced in our own backyard.
Brenda Lieberman is a senior features programmer at the Calgary International Film Festival (CIFF). In 2011 she sat on the panel that selected the TIFF Top 10.
The TIFF Canada's Top 10 Film Festival will take place at the Globe Cinema from Feb. 20-26, 2015. Tickets can be purchased in advance at calgaryfilm.com or at the door. Tickets cost $10 ($6 for a child/senior, $7 for youth).
---