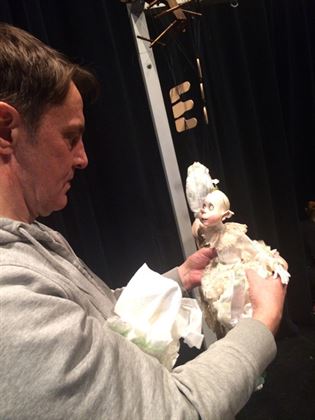 Fans of Ronnie Burkett who think they've seen it all have got another thing coming; Ronnie has returned to Calgary to present his new smash hit, The Daisy Theatre, in the Big Secret Theatre. The show opens February 17, and runs until March 7 (Tuesday - Sunday). This production will allow audiences to experience Burkett's genius unleashed; an improvised, unscripted, ripped-from-the-headlines collection of variety acts, impromptu monologues, musical numbers and more with a cast of over 30 marionettes, told by a master of manipulation and characterization living to his full potential for delightful sass and enchanting storytelling.
If you're a fan of Ronnie Burkett, here a few news things about The Daisy Theatre:
It's been awhile, but Ronnie is back in The Big Secret (2nd Floor, Arts Commons). Doors open at 7:00 for a 7:30 start and the show is general seating (so arrive early to grab a cocktail table near the front!)
The Daisy Theatre is IMPROVISED. There is no script. There is no run time. You, as audience members, will have a big impact on how the show turns out each night.
The show is meant to be seen more than once, because each night is different. Tickets are just $40.
If you've never seen a Ronnie Burkett show:
Disregard your preconceived notions of what a 'puppetshow' is and can be. You haven't seen anything like this.
Leave the kids at home: Burkett's shows tackle complex emotional and political themes. This show is pure fun and sure to delight, but when a show is billed 'Ronnie Burkett unleashed', you never quite know what to expect. Officially, The Daisy Theatre is recommended for ages 16+ only.
Pee first.
Turn your phone off.
No intermission. Seriously - pee first!
Tickets & Info: www.thedaisytheatre.com
Want tickets? We'll give away two free tickets to the Sunday, Feb 22nd performance to a randomly selected commenter who can accurately answer this question: What french word is used to describe the kind of puppet used in this upcoming show? We'll draw a winner by Friday, Feb 20th.
---