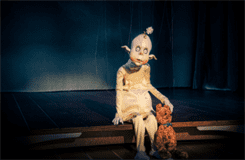 Ronnie Burkett is back with a new show The Daisy Theatre, and it is quite unlike anything you've seen from him. He's brought us memorable characters over the years, including Billy Twinkle and Penny Plain. But in his newest creation, Burkett is in some ways, doing something new, but in other ways bringing back the old.
The Daisy Theatre has no script, no set time and no set cast of marionettes, which is something new. So each night is different, with different songs and characters. Tonight's performance was industry night, otherwise known as 'the theatre filled with people who mostly didn't pay for their ticket.' Burkett is bringing back the old by returning to the Big Secret Theatre in Arts Commons (formerly the Epcor Centre for the Performing Arts) after a 15 year absence. The theatre is set up cabaret style, to allow for a less formal atmosphere.
The Daisy Theatre is outrageous and I suspect it will be every night. It is raunchy and funny and on Industry night, catered to its audience. there were political jokes that were particular to Calgary and shout outs to the critics and famous people in the audience (the Mayor was in the house). Burkett has audience members play roles in the narratives and that is also something brand new.
But amongst all the laughter and dirty jokes there were some truly touching moments. Mrs Edna Rural spoke of her lost husband and how we only exist because we remember each other. There was mention of a memory of the late Michael Green and how there is sorrow being in the Big Secret Theatre, home of the Rabbits. There were truly moments of contemplation and insight amongst the jokes.
And that's what's incredibly about Ronnie Burkett. He brings his marionettes to life, it is all in the details. He tells crude jokes and stories that are heartfelt. It's what you expect from a night at the theatre.
Ronnie Burkett's The Daisy Theatre runs until March 7th. More information is available online, or win tickets here!
---