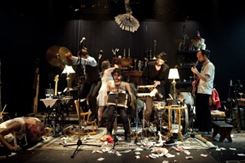 Kurt Weill was a German composer who infused his composition with popular music, combining classical with popular. L'orchestre D'homme-orchestre (LODHO) is a performance company that reinterprets the work of particular musicians or composers. Back in 2011, they performed Tom Waits. This time, they are performing the music of Kurt Weills, in a production entitled Cabaret Brise-Jour (Shattered Cabaret), presented by Theatre Junction Grand.
LODHO combines art with theatre and music. They create this music using traditional instruments such as guitars, cellos, violins, and drums. But they also use recycled instruments and unconventional methods of creating sound. It makes for an intriguing production.
This production featured a sequence of the main singer stuffing his mouth with strings of fake pearls and a sequence in which the main singer was showered with clothes. A chandelier like device that acted as a horn that up to four actors played at once. There was a tickling sequence and a complex method of altering the voice. It was a production that was cluttered with sounds and instruments that were all harmonized and on rhythm.
Cabaret Brise-Jour is a perfect blend of music, theatrics and arts. It balances on the edge of the absurd and the intriguing, making the fact that half the time you don't understand Weill's lyrics irrelevant. LODHO has created a complex, multidisciplinary production that is not quite theatre, and not quite rock concert but is a great performance of art.
Cabaret Brise-Jour, L'orchestre D'Homme-orchestre is presented by Theatre Junction Grand is only plays until Saturday, April 12th. More information is available online.
Photo Credit: Guillaume D.
---