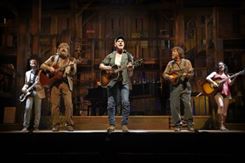 I've never heard Fred Eaglesmith's music. So I didn't know what I was in for when I walked into Theatre Calgary's production of Dear Johnny Deere, the Fred Eaglesmith Musical. I thought it would be centered around tractors and farming and I would be lost. That's not the case.
Theatre Calgary's musical is compelling, filled with fun melodies and a narrative that anyone in the audience can connect to.
The story is told by McAllister (Jeff Culbert), neighbour to Johnny Deere (J.D Nicholsen) and wife Caroline (Rebecca Auerbach). Though they live in a small town their houses are close to each other. There is trouble on the horizon for Johnny and Caroline, as they struggle with droughts and flooding on their land and in their marriage. Mike (Jody Richardson) is an old friend of Caroline's from high school and he is back in town to stir things up. Within this story is Eaglesmith's songs including White Trash and Time to Get a Gun.
What works about Dear Johnny Deere is how seamlessly the songs fit into the narrative, with David Archibald, Allison Lynch and Capucine Onn rounding out the music. Breaking out into song isn't awkward in this production. Which doesn't mean there are no corny parts. McAllister takes all of those, taking us back in time to tell the backstory that has Nicholsen awkwardly trying to play a teenager and in these instances McAllister takes the opportunity to tell the audience not to complain. "You all want to be spoon fed the story, having everything in chronological order."
Patricia Flood's set design give the country feel with hooks everywhere to hang guitars. David Archibald's musical direction gives Dear Johnny Deere a delightful musical flow. All of the musicians on stage are immensely talented, their harmonies filling the Maxbell.
Don't be intimidated by the tractor on the poster. Dear Johnny Deere is a musical about so much more.
Theatre Calgary's Dear Johnny Deere runs until May 31st. More information is available online.
The cast of Dear Johnny Deere.  Photo by Trudie Lee.
---