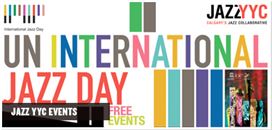 April 30th - Join JazzYYC for a series of concerts in Downtown Calgary including a free show at Devonian Gardens featuring the Tricia Edwards Trio.
See April 30th on our Events Calendar to see all the UN International Jazz Day events.

Apr 28 to May 31 - Theatre Calgary presents the Western Premiere of DEAR JOHNNY DEERE The Fred Eaglesmith Musical
Book by Ken Cameron, based on the music and lyrics of Fred Eaglesmith, Additional music and arrangements by David Archibald, Director Eric Coates, with J.D. Nicholsen and Rebecca Auerbach
Juno Award-winning singer/songwriter Fred Eaglesmith's soulful melodies and playful lyrics have earned him legions of fans from coast to coast. Some of his most memorable songs are brought to life in this new musical that offers a heartwarming and often hilarious glimpse at keeping a farm, and a relationship afloat.

May 1, 2 & 3 - The Market Shop Local would like to invite all of you to come to our Pre-Mother's Day Shopping event at Eau Claire Market May 1, 2 & 3. We will have a variety of handmade vendors and direct sales. Our Market is a family fun friendly market with arts and crafts for those crafty little ones. Singer/Songwriter Alain Heroux will be be there to sing for us on Saturday and Sunday. Come down to the market and meet local talented artists and so much more!! Free Admission
Hours:
May 1: 12pm-8pm
May 2: 10am-6pm
May 3: 11am-5pm

May 2nd - Art of the Cocktail returns to Calgary for its second year! Our Grand Tasting gives guests the opportunity to sip and taste what's new from award-winning bartenders, distillers and restaurants. There's something for every palate at our Grand Tasting at the University of Calgary Downtown Campus. If you're looking to expand your knowledge about cocktails, join us at the Bourbon Room at the National on 10th for our three seminars throughout the day on Sunday, May 3rd. Don't miss out on our final event: the Sidecar by Merlet Competition Canadian Finals.

April 30th - Keep your eyes peeled for a few tons of snow on Stephen Avenue! No the forecast hasn't drastically changed, it's a snow-tacular event hosted by Sunshine Village.
Stop by and check out the action including some ski and snowboard stunts and grab a free Rockstar energy drink.
---