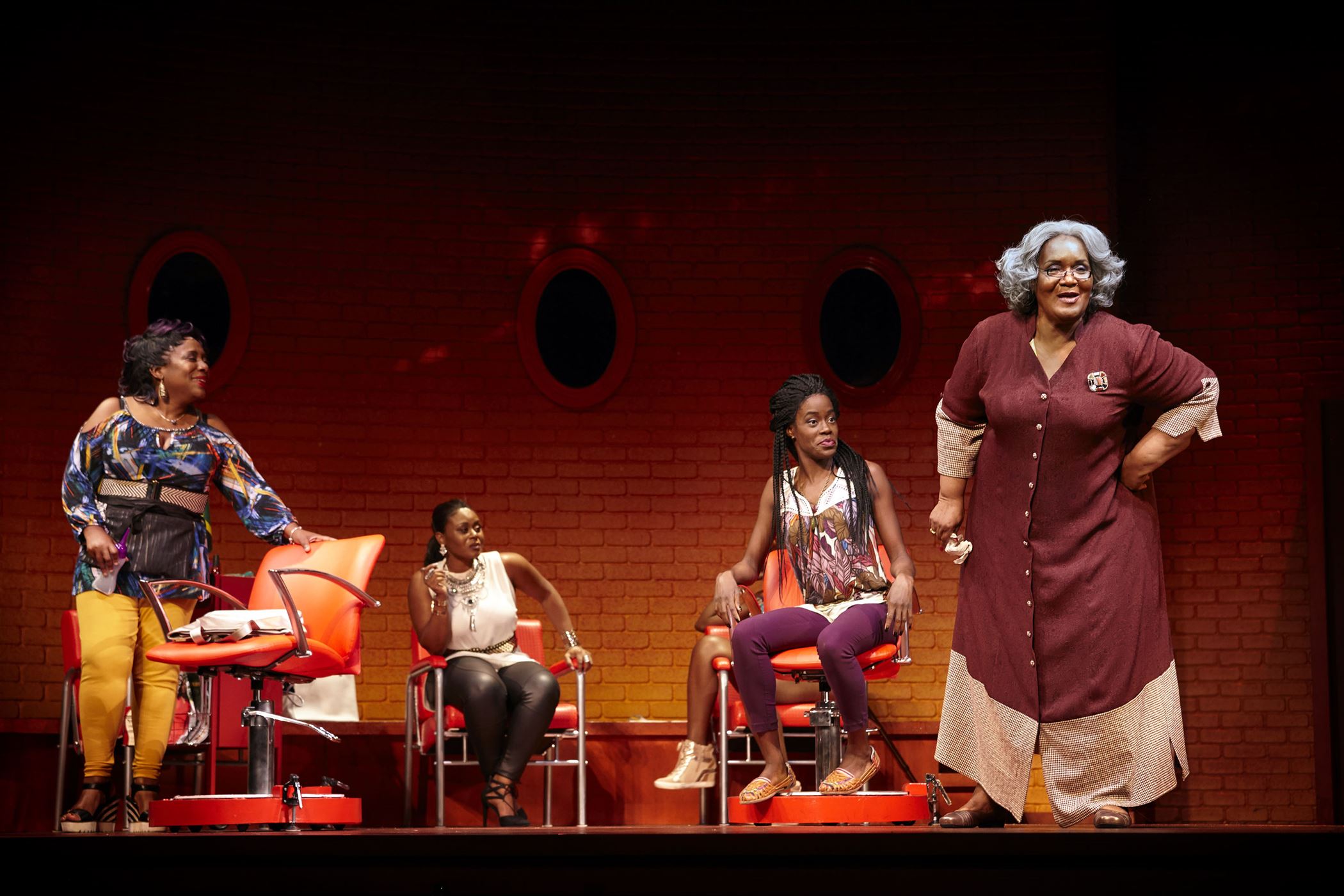 Trey Anthony's 'Da Kink In My Hair originally premiered at the Toronto Fringe Festival back in 2001. Since then it has been adapted into a musical, and at some point was a tv show. Theatre Calgary is presenting the play with Canada's National Arts Centre, it opens in Calgary then will move to Ottawa. Anthony's play is a much needed piece of theatre. Set in Novelette's (Trey Anthony) hair salon in Toronto, women spend the day having their hair done and when they sit in the chair, their personal stories come out. Novelette says that the stories are in the hair and she just knows how to tease them out.
'Da Kink In My Hair is a series of monologues broken up by musical numbers. The first story is told by Sister Patsy (Tamara Brown) in which she shares the tale of her son Romey. She affectionately calls him Jerome and she recalls how he mischievously set all the clocks back hours in the house, and she wound up being late to Sunday service. How she regrets not telling him things before he left with his friends. This monologue dives into how black boys are endangered species. How they are being killed in the streets and nothing is being done about it. How they will never grow up to become black men. It is a voicing of the truth that we've been needing to hear. We've needed to hear this pain. Brown delivers a measured account, holding back and trying not to break down. She sings an incredible song about how her song lives on inside her heart.
Suzy (Rae-Anna Maitland) has followed Sharmaine (Krystle Chance) into the hair salon because she enamored by the famous actress. But she then gets her hair done and also serves as a link for audience members. She is an outsider of this group of women and is welcomed and that is a critical thing to this play. The audience is therefore welcome to hear and share these stories as well. Suzy tells of marrying a black man and getting pregnant and her family (all from the south of the States) rejecting her because of it. She gives up everything for her baby and resents him for it, especially for the difference she sees in his every day. She is ashamed and misses her family. The writing is impeccable, but there is a bit of disconnect between the words Maitland is saying and her delivery. It's almost like Maitland isn't quite as familiar with the vulnerability that the words hold.
Then walks in Sherelle (Lennette Randall), the busy professional woman. She insists on Novelette fitting her in, but is disappointed when she doesn't get her way. She tells a tale of disappearing and trying to keep it together for her mother, her sister, her boss. But she's coming apart at the seams,  doing everything for everyone else but not herself. "Everyone wants to be me, except for me." Randall starts her monologue already at a climax of emotion. It's a hard level to sustain, and has the audience not being able to stay with her as well.
The first half of the musical ends with Miss Enid (Brenda Phillips) doing a fun, comedic song about meeting Charlie, her new 85 year old love interest. Phillips can sing, as can the rest of the cast on stage and it's great to have a little fun in the musical.
The second half of 'Da King In My Hair, is much heavier. It features a monologue by Sharmaine talking about coming out as a lesbian to her family and friends and dealing with their rejection. Her mom taught her to fight, but never taught her how to fight her. Sharmaine sings about missing her mom, in a time when she needs her the most.
Allison Edwards-Crewe is up next as Nia, talking about how her mom doesn't accept her or love her as much as her sister because she is darker skinned. Her mom just recently passed away and Nia feels nothing in terms of sadness. Her mom never let her wear red ribbons in her hair because she was too black. It's a sad tale, ending in how all her life Nia has been in black. Edwards-Crewe is steady as Nia and handles the emotion in her monologue quite nicely.
The musical ends with a story by Stacey-Anne (Virgilia Griffith) about child sexual abuse. It's a difficult one to listen to and Griffith demonstrates her versatility as she also plays Claudette, an assistant in the salon who is sassy. Griffith is also a talented dancer.
The second half of the musical is quite heavy and a lot for the audience to go through, but features better performances. Cory Sincennes's set design along with Gerald King's lighting design allows the monologues to come alive, as the rest of the salon fades into the background. The musical numbers are catchy and bring levity to the dark subjects.
'Da Kink In My Hair is important theatre, in seeing and hearing the voices of black women on stage, and especially in hearing those stories that are filled with pain. Despite some moments that feel a bit contrived, this musical has stories that need to be heard.
Theatre Calgary's 'Da Kink In My Hair runs until October 1st. More information is available online.
Photo Credit: The cast of 'Da Kink in my Hair, photo by Trudie Lee.
---