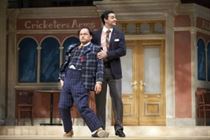 Richard Bean has adapted the Italian Commedia Dell'Arte The Servant of Two Masters and set in Brighton in the 1960s. Theatre Calgary's production of Bean's play, One Man, Two Guvnors is chocked to the brim with talented local actors: Rebecca Northan, Julie Orton, Stafford Perry. They are all actors who thrown themselves into their characters with the end goal of making the audience laugh. And opening night saw big laughs from the audience, when Francis Henshall (Kevin Corey) ate paper or ran into yet another door, or anytime Alfie (Trevor Rueger) was on stage. The production is light and funny and has you laughing in the first five minutes. Then it stretches out the same jokes for much too long, so that if you see the first half, you don't miss anything if you don't see the second half.

The play tells of Francis who needs to eat everyday and is quite starving, so decides to serve to governors, so he gets double the pay in order to eat double. He is serving Rachel Crabbe (Julie Orton) who is dressed in her dead brother's clothing to disguise herself to get dowry money from her brother's betrothed family. Her beloved Stanley Stubbers (Tyrell Crews) killed her brother and is now on the run. Thrown in to this mix is Pauline (Allison Lynch) who wants to marry Alan (Stafford Perry) but her dead fiance is apparently back. Along for the ride is Dolly (Rebecca Northan) and a vast array of other colourful characters including Gareth (Kevin Rothery) and Alfie (Trevor Rueger).
One Man, Two Guvnors implements improv into its narrative, pulling audience members onto the stage to lift and carry things and hide food. It's in these moments that Corey does best, playing around with people and rolling with the punches. Opening night saw Corey ask for a sandwich and have an audience member actually offer one. Corey stood on stage, introduced his fellow actor Tom, and proceeded to tell the audience member that he had ruined two of Tom's three lines. Otherwise the jokes wear thin for Corey and he doesn't have quite the charm to make the lead of this narrative stretch.
Northan demonstrates her improv skills and comedic timing in her speech about how women are better off without men.
The play is full of puns and jokes and music. There are intervals where The Craze (the featured band) plays music in between scenes. Musical direction from Joe Slabe has the tunes be quite fitting. Scott Shpeley (a member of The Craze) is all enthusiasm and is great fun to watch, right down to the bell on his shoulder. The play has his moments, especially in Perry, whose character is deliciously over the top, but wears thin by the end of the play.
Theatre Calgary One Man, Two Guvnors would work quite well and be deliriously funny if it was cut in half, as it's the same jokes over and over again. But if you really enjoy slapstick, physical comedy, then this play is for you. Opening night saw a standing ovation.
Theatre Calgary's One Man, Two Guvnors plays until September 28th. More information is available online.
Photo: Kevin Corey and Tyrell Crews
Credit: Trudie Lee
---