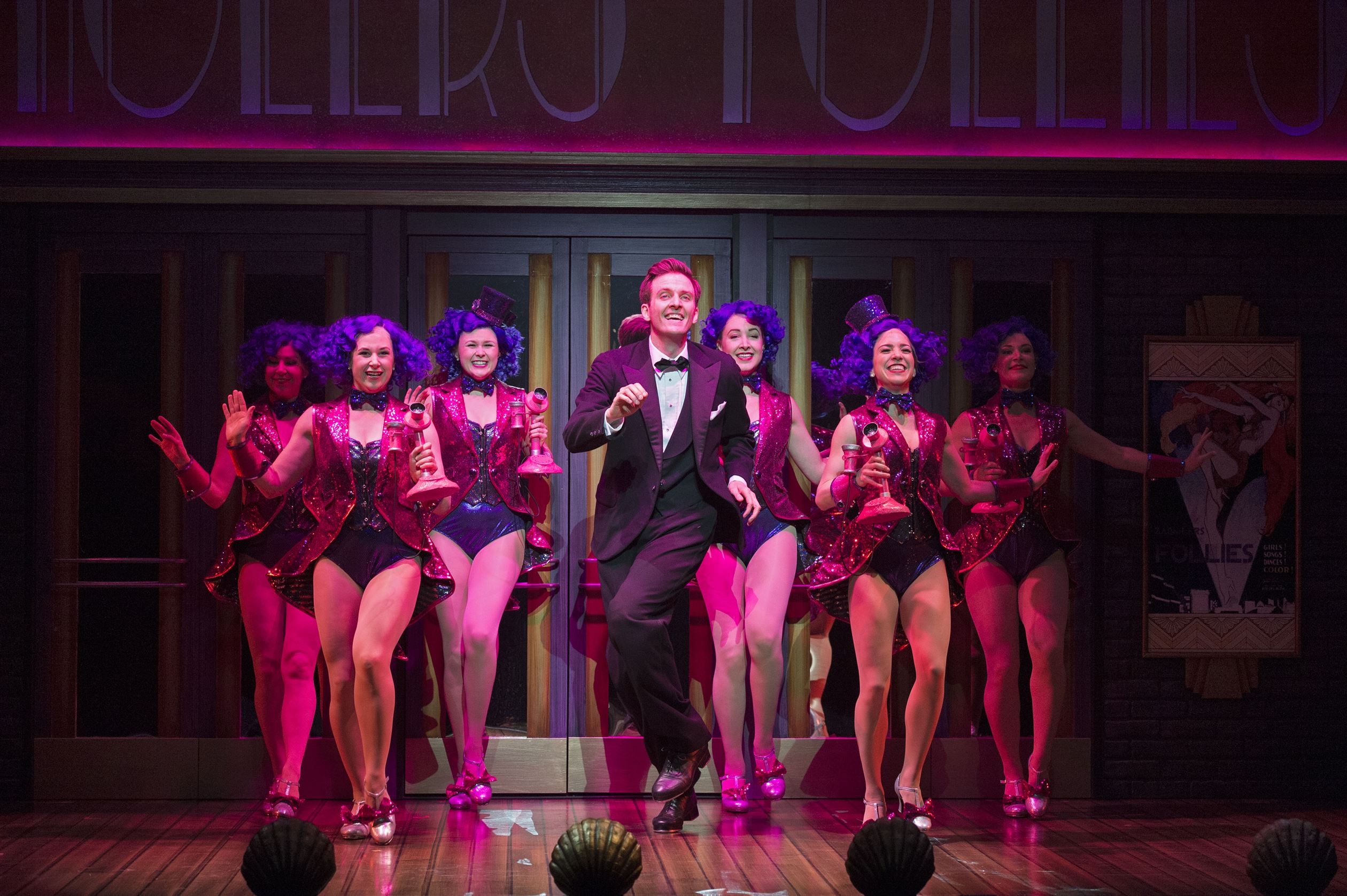 Sometimes, with the stress of our jobs and the state of the economy, you just want to go to the theatre and be wrapped up in singing and dancing. There is no better opportunity for this than Theatre Calgary's production of Crazy for You, The New Gershwin Musical with music and lyrics by George and Ira Gershwin and book by Ken Ludwig, co-conception also by Ken Ludwig and Mike Ockrent. This musical is a powerhouse performance with spectacular talent in vocals and tap dancing, comedic characters and memorable Gershwin music. Even if you haven't heard of the production, you know the songs as they have been present in our culture. Theatre Calgary's Crazy for You is a joy to watch and you will find yourself unable to resist singing along.
The musical tells of Bobby Child, (Andrew MacDonald-Smith) who just wants to sing and dance. He auditions for Bela Zangler (John Ullyatt) who owns the Zangler theatre in New York, where performances of 'Zangler's Follies' are wrapping up. Bobby fails to impress Mr Zangler, and is then berated by his fiance of 5 years (Irene Roth) and his mother Lottie Child (Susan Gilmour). Lottie wants to send him as the representative of the family bank to Deadrock, Nevada where a theatre is going to foreclose. Bobby heads to Deadrock and falls in love with the only woman in the town, the lively Polly Baker (Ayrin Mackie), but Polly despises him as he is going to take her father's (Larry Herbert) theatre away. Bobby concocts an idea of putting on a show to save the theatre, and when the idea doesn't fly when he is Bobby, he disguises himself as Zangler and brings his Follies with him. The entire town is on board except for the saloon owner Lank Hawkins (Jesse Gervais). Hilarity, confusion and a lot of dance numbers ensue, especially when the real Zangler shows up looking for his love Tess (Makayla Moore).
The energy of the production is so high. MacDonald-Smith is fantastic as Bobby Child, showing his immense talent in singing and dancing as well as his comedic chops. Mackie is a lead as Polly, matching MacDonald-Smith in talent and energy. Theatre Calgary's production features an orchestra with musical direction from Don Horsburgh that is a great addition to the performance. Cory Sincenne's set allows the production to flip from the glitz of New York to the small town of Deadrock. Sincenne's costume design also elevates the play, having the Follies in vibrant colours and sequins.
It's the music and lyrics that make Crazy for You so much fun and allows you to go along with the plot. The production does wear a little thin in certain numbers, including 'Naughty Baby' when Irene and Lank get together. The choreography of the piece is a little too over the top. 'What Causes That?' is a great joke that runs a bit too long.
Theatre Calgary's Crazy for You is an energetic, fun, joyful production. Just what we need to distract us from our troubles.
Theatre Calgary's Crazy for You runs until May 20th. More information is available online.
Photo Credit: David Cooper
---