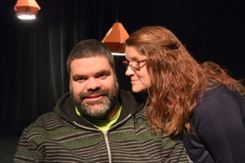 Verb Theatre and Inside Out Theatre premiered a soap opera titled Mike, Karen Karen, Mike. It is dominantly a interview with Mike Keir, conducted by director Col Cseke, with some improvised portions where Karen Johnson Diamond (The co-artistic director of Dirty Laundry Improvisational Theatre) comes in.
The play is aimed at theatre industry people, but you don't have to be in the theatre industry to be engaged in Mike's story. He tells of his struggles with his family and abusive friends. He delves into his fears and conceptions of homosexual relationships and is very honest about his life in front of a room full of strangers. He is quite brave in the telling of his story.
What is really striking in this performance is how theatre can bring people together. After his abusive incidents, Mike was left with a lot of fear and distrust in people who were not disabled. It was his love for Dirty Laundry's form of theatre that brought him out into the world and allowed him to connect with other people. And that's what Mike, Karen Karen, Mike is all about.
Verb Theatre and Inside Out Theatre's presentation of Mike, Karen Karen, Mike runs until March 16th at Motel Theatre in Arts Commons. All performances are pay what you can. More information is available online.
---