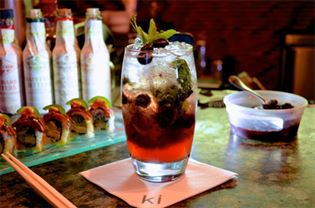 Patio season has arrived and as usual Calgarians are hungry for long afternoons in the sun, coupled with great drinks and delicious food. Ki Japanese just launched their Izakaya menu using spring & summer ingredients. There are some seriously tasty and refreshing cocktails on that menu that are perfect for enjoying post-work.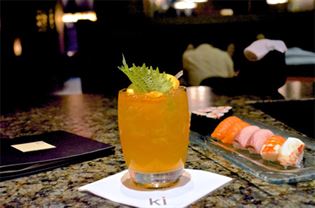 Also, another new and great program at Ki is the Buck a Shuck program - with $1 fresh shucked oysters served with chili daikon ponzu - available Monday to Friday from 3-7PM + $5 highballs, Sapporos and $7 wine from 3-6PM. Yes, you heard that right - Buck a Shuck EVERY DAY OF THE WEEK. So, if you are like me and cannot wait to indulge in some incredible oysters just one day a week, you can take advantage of this great deal and slurp some down a couple days of the week.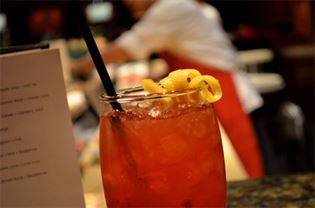 Take a sneak peek at the new menu here:
Tempura Pacific Oysters: chopped and battered served with spicy ponzu
Ki Sushi Salad Roll: Japanese spring roll with maguro + sake + avocado + asparagus in rice paper
Gyoza: pork belly dumplings with pickled cabbage + chili oil sauce
Duck Confit Lettuce Wraps: carrots, celery, shitake, water chestnuts + spicy kabayaki sauce
Pork Belly Bao Sliders: steamed buns filled with panko crusted pork belly served 3 ways
Tuna Tacos: big eye tuna in a crispy wonton shell with salsa + guacamole
Bonus! Here are three new cocktail recipes straight off of the fab new menu that you can try out at home too!
Pomberry Mojito
In a jigger add the following

Mint & Blueberries then Ice

2oz Junmai Sake

1oz Pomegranate Juice

.5oz Lemon Juice

Shake Vigorously and pour into a tall glass

Top with Simple Syrup and Soda
Orange Creamsicle
In a jigger add the following

Ice

1oz Pomegranate Vodka

1oz Mandarin Vodka

2oz Coconut Water

.75oz Orange Syrup

.75oz Orange Juice

Shake and pour into a rock glass and top with Soda

Garnish with Shiso and Orange Wheel
Onikoroshi
In a jigger add the following

Raspberries then Ice

1oz Cointreau

1oz Orange Sake

.5oz Lemon Juice

2 dashes of Tabasco
---