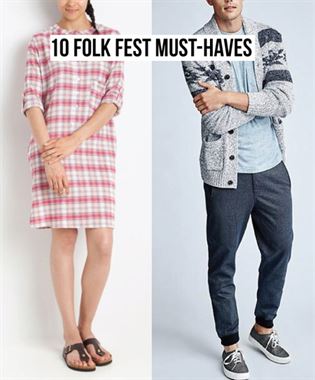 The Calgary Folk Music Festival is this coming weekend meaning it is time to let your hair down. Feel the grass between your toes as you dance or sway to the music. Leave your smartphone or watch at home and only let the sound of the music guide you throughout your day.
Eat things like gluten-free pizzas, tasty burgers and gelato. Indulge in multiple cups of coffee and pop into the beer gardens for a beverage or two. Let your skin get kissed by the sun and maybe forget about brushing your hair at least one of the four days.
Discover your next favourite band. Dance to your current favourite band. Make new friends and share your tarp with old ones.
Whether you do one or all of these things this weekend, make sure you have everything that will make you feel comfortable as you set up camp in Prince's Island Park for an unforgettable weekend of music.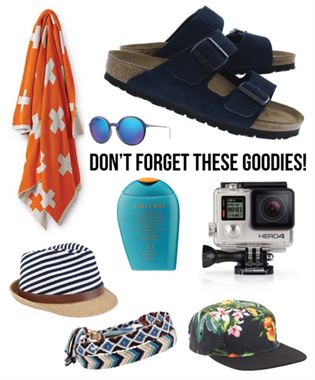 10 Must-Haves for Calgary Folk Fest:
Beakon Shawlneck Sweater, GAP: While the days may be hot, the evenings often cool off quickly. Stay cozy with this folk fest-worthy cardigan. If you don't end up using it at night, feel free to roll it up into a pillow for your mid-day festival nap on your tarp.
Poplar Plaid Shirtdress, Roots: Comfy yet cute, this plaid shirtdress is perfect for a day of festing. It will take you from early morning tarp runs to late nights at the beer gardens with friends.
Aura Crosses Knit Throw Blanket, The Bay: Every good tarp needs a good blanket. The bright graphic nature of this throw is perfect for spotting in a sea of blankets as you return from picking up some sushi for lunch.
Ray Ban Sunglasses, Sunglass Hut: Keep your eyes protected with these trendy Ray-Bans throughout the whole festival.
Birkenstocks Blue Strap Sandals, SoftMoc: It is not officially folk fest unless you've pulled on your Birkenstocks on. No socks ever, however.
Glorevia Hat, Spring: Your friends won't be able to miss you in this cute striped hat from Spring. Dual purpose - you'll look great while protecting your face from the sun's harsh rays.
Shiseido Sun Protection, Sephora: This sunscreen is ideal for sensitive skin and kids & babies. The long hot days at Folk Fest require plenty of sun protection and hats are not enough! Make sure you re-apply as necessary.
GoPro HERO4 Adventure Edition, The Source: Capture all of the memories and excitement of the weekend with a GoPro camera. This model has wifi so you can update as you go.
Coaviel Hat, ALDO: Another great hat for keeping the sun out of your peepers - this one will keep you feeling particularly summery.
Hibou Bracelets, Little Burgundy: Folk Fest is all about making new friends so be sure to stack on a bunch of these friendship bracelets to pass out as you meet new pals in the dancing area at the main stage.
---