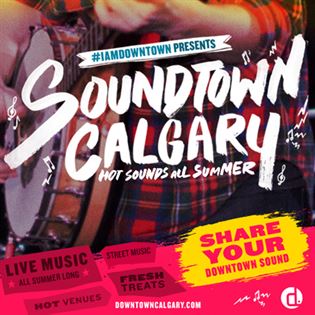 Downtown Calgary, proudly known as SOUNDTOWN CALGARY, brings to you FREE entertainment on the Stephen Avenue Summer Stage. Every Tuesday through Saturday there will be FREE noon hour performances from an array of bands, dance troupes, DJ's and even comedians.
Each show will start at 12:00 PM and finish at 1:00 PM. We invite you to bring your lunch, take a seat near the stage and CONNECT with the CULTURE of SOUNDTOWN CALGARY. While you're at it, be sure to enter our Soundtown Calgary contest.
Here is this week's lineup of entertainment that will be bringing audiences and artists together on the Stephen Avenue Summer Stage:
Tuesday, July 21st – After a stellar performance last year, Ellen Doty is back to grace our stage with her world class voice. While rooted in jazz, her music also incorporates elements of folk and pop. Complemented by her sultry, rich voice, it's a performance you won't want to miss.
Wednesday, July 22nd – The Wellington Folk, a local Calgary band, will bring their folk rock music to the stage on Wednesday. This passionate five piece band creates a dynamic music experience, with solid harmonic blends, lyrics with depth and great instrumental break-downs.
Thursday, July 23rd – Out of Vancouver comes Magik Spells, a band who music is "a groove monster with a spicy flavour that's fluid but hard hitting". A high energy show from this indie rock band will have you dancing in the street.
Friday, July 24th – Matt Blais is back, after performing on our stage on Canada Day. Matt's signature voice and music, influenced by blues, folk, rock and soul always draw a crowd. His newest song, "Fire from a Spark" features Canadian rocker Sam Roberts.
Saturday, July 25th – Gary Martin will be entertaining us on the 25th for our "Generations of Music" Saturdays, featuring Rock and Roll of the 1950's.
YOU ARE OFFICIALLY INVITED to all of these shows. We look forward to seeing you there! Look for the stage most weeks outside the Telus Convention Centre between Centre Street and 1st Street on 8th Avenue SE. Check in for next week's lineup of fun and family friendly noon hour performances. FREE to the public. Entertainment on the Stephen Avenue Summer Stage is brought to you by Downtown Calgary.
---