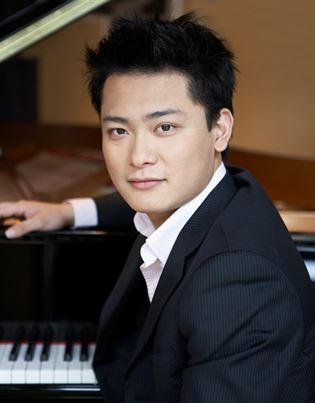 What better way for a city to come alive than by bringing music to its streets! And there's no instrument we love more than the piano. It has a distinct and recognizable sound and anyone can try their hand at playing - whether you're a four year old hitting the keys and creating 'new music' or a world class pianist like 2006 Honens Laureate Hong Xu.
This summer we're fortunate to welcome Hong back to our city. He's stopping over on his way back from The Banff Centre's Summer Music Festival where he will have just given an encore performance of Frederic Rzewski's Rubinstein in Berlin.  Here in Calgary, Hong will perform outdoors on the Woodlands Piano - one of Downtown Calgary's street pianos.
Hong has been a busy pianist since being named Honens Laureate in 2006. He's given recitals at important music venues like Carnegie Hall in New York and London's Wigmore Hall. He has performed with the world's leading orchestras including a tour of China with the London Philharmonic Orchestra. For someone who started playing the piano at age three, Hong has been performing on the international stage for a long time! He's now on faculty at the Wuhan Conservatory in China.
I asked Hong if he had anything to share about his upcoming performance.
"I am always happy to visit Calgary, mostly because of the people I've met and the amazing scenery. Piano has gradually become an important social activity for Calgarians and I am happy to be part of that. My Concrete Sonata performance will include works by Schumann and Liszt, both were important figures of the 19th century romantic era. Performing outdoors is very different from indoors - the air is certainly better! It is a casual setting so I encourage all people to bring their lunch and come enjoy the music, even if you're not familiar with it."
We can't wait for Hong Xu's performance on the Downtown Calgary street piano!
This has been a guest post by Janet Bwititi on behalf of Honens to promote the Concrete Sonata performance coming July 29th at 12pm.
Photo Credit Chad Johnston
---