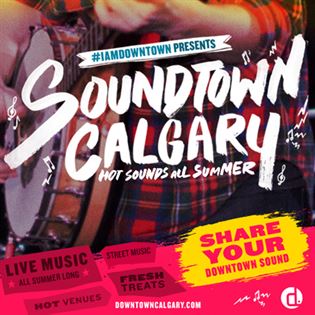 Join us downtown on the Stephen Avenue Summer Stage for some great Soundtown performances. Every Noon hour from Tuesday to Saturday you can catch some great local and traveling acts. Performances are free, family friendly and open to the public so why not bring your lunch and check it out? The entertainment varies week to week so keep checking our blog or sign up for our Downtown Calgary newsletter for the most up to date info. Look for our stage just of Centre Street on 8th avenue SE next to Milestone's.
Tuesday, July 28th – The Gerry Herbert Jazz Quartet is first up this week on the summer stage. Playing concerts in the Calgary area since 1997, and founder of the Calgary Youth Jazz Orchestra, Gerry Herbert is a well-known authority in the Jazz world. Be sure to check them out on Tuesday.
Wednesday, July 29th – On Wednesday the summer stage will feature different cultural dancers, thanks to the annual multicultural festival, Global Fest. This lunch hour event will feature Thai dancers, Scottish dancers and Blackfoot Crossing Historic Park ltd. dancers. Don't miss this taste of culture on Stephen Avenue.
Thursday, July 30th – Absofunkinlutely, a 4 piece band from Saskatoon, will be on stage on the 30th. Their music is described as a mix of essential groove, stubble-folk and Northern soul. Not quite sure what that means? Check them out on Thursday and find out for yourself.
Friday, July 31st – HB Wild, a six-piece ensemble hailing from all over the world and led by Henri Brown, cousin of legendary Jimi Hendrix, will play a set featuring everything from rock to funk to pop to jazz and soul. These versatile musicians will make your lunch hour anything but boring.
Saturday, August 1st – Local Calgarian Matt Beatty will be on stage for the next "Generations Of Music" Saturday performance, this time playing music from the golden-age of rock, the 1960's.
-
Catch all of these performances from Noon (12pm) to 1pm each day on Stephen Avenue (8th avenue SE) near the corner of 8th avenue SE and Centre Street.
---