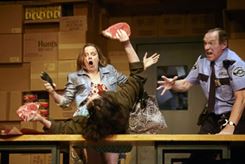 According to the National Insurance Crime Bureau, steak is one of the most commonly stolen items. In Theatre Calgary's The Shoplifters, Alma (Nora McLellan) and Phyllis (Anna Cummer) try to steal high quality cuts of steak by putting them under their skirts. They are apprehended by Dom (Jeff Lillico) a young, eager security guard who has been in his role for about 6 hours. His immediate supervisor Otto (Stephen Hair) is trying to guide Dom to take over as he's being let go.
Morris Panych's The Shoplifters is a comedy, stacked around some compelling questions about justice and why people steal. It seems that Alma steals as an act of defiance. Her stand against the big corporations, that won't notice a bottle of rubbing alcohol gone missing. Phyllis just seems to wrapped on in the whole scheme and is also a really bad shoplifter. As the play goes on, Dom and Otto trying to get a confession out of the ladies, Phyllis getting handcuffed to a crate of cantaloupe, Otto trying to force Alma to eat raw steak; this play exists in the slightly absurd. The audience has to buy in, to not question why no one has cell phones, why the ladies allow the men to treat them this way and not just call the cops and how there isn't any indignation at their treatment, how they are locked in this warehouse of the superstore for hours and hours. It's all for comedy and opening night saw a lot of laughs (and some odd heckling from the back). But The Shoplifters is too simple of a plot-line, isn't particularly believable and is quite predictable even in its comedy.
Director Haysam Kadri has blackouts and funky music play as transitions which suits the pace of the play and set designer Ken MacDonald makes the Maxbell Theatre seem slightly smaller with walls of boxes with certain products on display. Anton de Groot has these products light up in transitions. It's all conveys an atmosphere of fun.
Stephen Hair as Otto is quite solid. He fills out Otto quite well and seems quite genuine in his interactions with Alma. Cummer and Lillico as the more absurd of the 4 characters, so their jobs are harder. Lillico has one joke and it is exhausted by the end of the play. Cummer has to be hysterical pretty much all the time. She does her best, but she isn't given much to work with.
Theatre Calgary's The Shoplifters has its funny moments. But its predictable and tiresome. The narrative explores a little bit the nuance behind stealing, but gets caught up in the comedy of it all.
Theatre Calgary's The Shoplifters runs until September 27th. More information is available online.
Photo Credit: Trudie Lee Photography
---