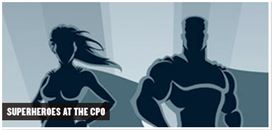 Hollywood's action-packed blockbusters and favourite TV superhero shows are in the spotlight as one of the world's leading Pops conductors, John Morris Russell, leads the Calgary Philharmonic Orchestra through this fond homage including music from The Dark Knight, X-Men, Captain America, Iron Man, Thor and Star Wars.

Catch me! - Oct 23 - 25
Hoops twirl, diablos whirl, and acrobats soar - all in a day's work (or play!) for Flip FabriQue, the new kids-on-the-circus scene. Fun, funny and fresh-faced, this nouveau cirque crew takes athleticism and showmanship to new heights in CATCH ME! (Attrape-moi). In an explosion of happiness, this giggle-and-gasp-inducing gang offers 75 minutes of high-energy entertainment for all ages, while bouncing off balance beams and scaling a trampoline wall!

"FLUID at Noon" a co-presentation between ProArts Society and FLUID Festival 2015. Choreographers Kayla Henry and Troy Emery Twigg each seek out personal truth in their performance works. Both choreographies rediscover knowledge through nature, the body, history, heritage, deep listening and questioning.

Out for Lunch Tour: David Thauberger: Road Trips & Other Diversions. Road Trips and Other Diversions curators Sandra Fraser and Timothy Long guide you through Thauberger's eye-popping work, including 70 paintings, prints and ceramics from 1971 – 2009.

Restaurants for Change - Oct 21
On October 21, more than 50 restaurants in 13 Canadian cities will join together to donate all or part of the proceeds from dinner service to Community Food Centres Canada. The inaugural campaign raised more than $120,000 in 2014. Funds raised this year will once again support local Community Food Centres and other organizations to offer healthy food and empowering food programs that build health, hope and community.
Participating downtown restaurants include CHARCUT and The River Café
---
Sign up for the Downtown Calgary Events Newsletter.
Want your upcoming event featured as a part of our newsletter, blog and social media? Submit your event here: http://calgarydowntown.com/things/events/add-an-event.html
---