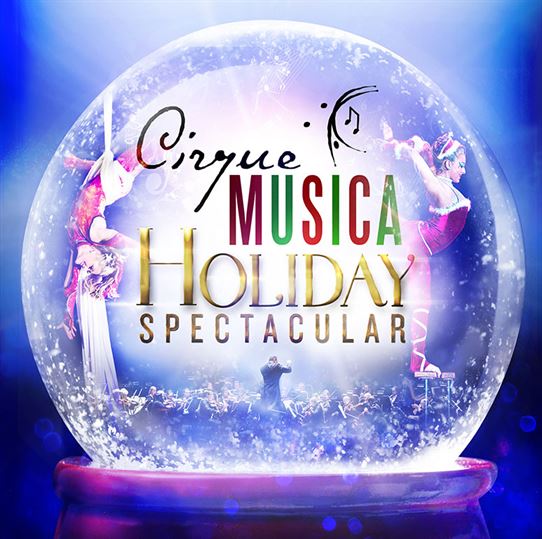 This Holiday Season marks the fourth time that Cirque Musica is back in Calgary, performing with the Calgary Philharmonic Orchestra. The show was extremely popular in past years, selling out in six of the seven performances. This year they will be performing Holiday Spectacular at the Jack Singer Concert Hall featuring some of the finest acrobats and gymnasts.
Produced by TCG Entertainment, Cirque Musica currently has four productions travelling all around the world. The goal of Cirque Musica is to take audiences on a "musical journey to a faraway land of dazzling beauty and mystery," a goal that is a guarantee with performers of their calibre. Many of the acrobats and gymnasts have been part of Canadian entertainment company, Cirque du Soleil, one of the world's largest theatre productions. They have been practicing and perfecting their skills since childhood and many grew up in this performing industry. Ashley Winn, one of Cirque Musica's performers who you'll be seeing this December, was known as the youngest hula-hoop sensation and represents eight generations of aerialists and performers.
The performers travel around with the Cirque Musica Company and most have travelled with large productions for their whole lives. Being a gymnast, an aerialist, a body contortionist, or a circus performer is not just a career to some, but more a lifestyle. Cirque Musica performer, Nicole Weiss knows everything about growing up in a circus family. The Weiss family is a renowned performing family and are considered a modern-day circus family. The Weiss family raised all of their children in the circus, Nicole Weiss and her siblings began to perform in the circus at a young age. They never lived in a real house or went to a real school, but had the opportunity to travel all over the world and perform in various shows.
Veronica Gan will be one of the soloists performing in Cirque Musica's Holiday Spectacular. Gan has performed with many orchestras, but never had to play the violin while suspended in the air until she started touring around with Cirque Musica in 2012. Artists with an extensive variety of skill will be part of this Holiday celebration, and not something we will be seeing for the rest of the Season. So come join us and listen to your favourite Christmas music!
---
Editor's note: This post was written by Masha Scheele, Digital Media Coordinator at the Calgary Philharmonic Orchestra to promote the upcoming Cirque Musica Holiday Spectacular. If you would like to promote your Downtown business or event, please email [email protected]
To get events like the Cirque Musica Holiday Spectacular emailed to you each week, sign up for the Downtown Calgary Events Newsletter, and follow us on Twitter and Instagram, and Like us on Facebook!
---