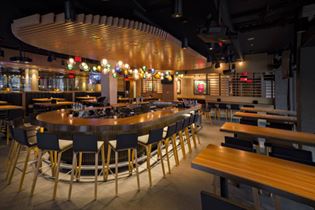 Great news for downtown foodies! A new eaterie has opened up right in the heart of Calgary. Yes, the Cactus Club Cafe has chosen to open up their third location right on Stephen Avenue. The new restaurant is located on the corner of Stephen Avenue and 3rd Street SW - where HMV was previously located (HMV has since moved next door).
Pop in for lunch, dinner or just for post-work drinks and enjoy their mouth-watering menu full of gems like the Creole Steak & Prawns or the Rocket Salad.
The stunning 6,700 square foot space literally glows from the inside out with beautiful light installations including Paul Henningsen's PH Artichoke Light from 1958. The mid-century vibe is accentuated with warm wood, Omer Arbel light installations and a collection of modern works by Andy Warhol, Niagara Detroit and Mr. Brainwash.
Executive chef and Iron Chef American champion Rob Feenie led Calgary's culinary team to create a flavour-rich menu for downtown dwellers and workers. The new menu features signature dishes by Feenie including butternut squash ravioli with prawns (pictured here), four mushroom sirloin, Rob's crispy chicken sandwich and the tuna stack.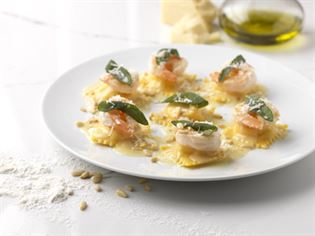 Diners can expect to experience the incredible classic cocktail and extensive wine program developed by sommelier and service director Sebastien Le Goff. One of the most exciting aspects is how they are featuring Canada's growing wine industry - truly big things are coming out of the Okanagan right now.
Once the warm weather rolls around again, diners can take advantage of the beautiful 1,300 square feet patio. We are counting down the days until summer returns!
In the meantime, this is a great place to catch up with friends before the holidays, host an impromptu Christmas gathering or just to experience the new space and the delicious menu! For more information and amazing food pics follow them on Instagram at @cactus_stephenave.
Cactus Club Cafe Stephen Avenue, 178 - 317 7th Avenue SW
---