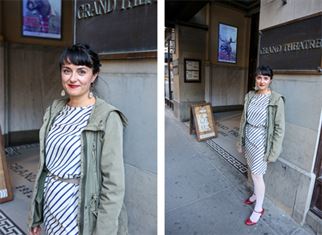 Raphaele Thiriet has serious style - by the way she chooses to put clothes and accessories together, it's not surprising to find out that she's an artist. Her creativity exudes beyond the obvious, and her passion is evident as she begins to speak of her work.
Thiriet has been creating work with Theatre Junction GRAND in their Company of Artists for the past nine years - the performance ensemble is comprised of actors, dancers, musicians, and filmmakers, who are currently gearing up to travel to Montreal to present their latest work, Everybody Knows This is Nowhere, for its French premiere in November.
Her artistic work clearly manifests itself in her personal fashion choices, or maybe it's the other way around? Either way, she naturally and beautifully completes her look with a classic red lip, which I'm always in favour of!
http://www.theatrejunction.com
How would you describe your personal style? 
I'm inspired by counter(alternative) culture. Street style. Queer/Punk to Gothic sensitivity.
What are some of your influences when it comes to fashion?
I've been inspired by Vivienne Westwood, Comme des Garçons, Arnaud Lazérat, Alexandre McQueen, but most of the time I choose what I wear in the moment based on how I feel that day.
What are some of your favorite Downtown YYC spots? 
Theatre Junction GRAND of course. It's where I work and create with Theatre Junction Company Of Artists. This beautiful theatre was build in 1912 and is the first theatre building build in the city of Calgary. Theatre Junction saved it from demolition in 2006. Having the chance to work and create contemporary work in these old walls is amazing, and a way to link past, present and future. And I get the chance to hang out in our restaurant and bar, Workshop Kitchen+Culture, where chef Kenny Kachaele is always working his magic.
I also love the Palomino.
What fashion advice would you give to others?
 It's Ok to be extravagant.
Tell us more about the projects and work that you're involved with. 
I'll actually be touring in Montreal with Everybody Knows This Is Nowhere, the last creation of Mark Lawes & Theatre Junction Company Of Artists.
How long have you been with Theatre Junction and what's your favorite part of working with this company?
I've been involved with working at Theatre Junction for 9 years now. I love that the team is entirely multidisciplinary and most of all I love the process. We're jamming and improvising wildly before anything is written which is very specific to this company. Our work was described as "a pop hallucinatory franco-canadian gothic." We use music dance and video throughout the whole process.
What are some of your future aspirations?  
Touring one of our new creations in Europe.
How does your work influence your personal style? 
I think it's actually the other way around.  I come as I am to work and therefore it influences the work we do collectively. To work in a collective creation process, you have to be yourself so the co-creators have an idea of where you stand and can compose with your colors like in a music jam.
Anything you'd like to add or tell us about? 
I'm also preparing a show with theatre mentorship students this year in collaboration with Erin Brubacher, it's a wonderful play written by Jordan Tannahill called Concord Floral. The kids get the chance to play on our main stage and be part of our official 15-16 season, which is amazing.
---