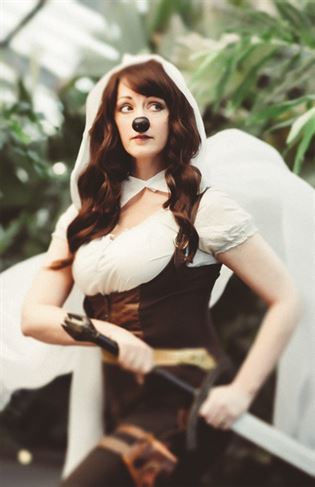 Have you ever watched a fantasy film like Lord of the Rings and though, "Gosh, I wonder what it would be like to be Frodo?" Well, thanks to Alberta Theatre Projects (ATP), you just might get a chance to find out!
Alberta Theatre Projects, on Stephen Ave in Arts Commons, is about to open its Family Holiday Presentation: Legend Has It. The show is billed as a "funny, heartwarming fantasy adventure for the whole family, complete with powerful spells, magic swords and comic sidekicks." But there is a twist! Each night, the cast discovers a hero amongst ordinary audience members and entrusts them to star in the show on an epic quest to beat the bad guy and save the world!
There are *Mumplings in danger! Would you be up for the challenge?
The cast is made up an all-star roster of improvisers who have grown quite the loyal fan base for this show. It workshopped at Loose Moose Theatre and actually premiered at ATP a few seasons ago. After much acclaim and popularity, ATP has brought it back for the holiday show.
We caught up with Rebecca Northan, who co-created, stars in, and directs the show…
What does it mean to you to have Legend Has It at ATP for the Holiday Family Presentation?
Much to my amazement, it's been 20 years since I was cast in my first professional production at ATP. I also love the Holidays. This is an excellent way to celebrate a big anniversary, and a wonderful time of year.
Between the workshops at Loose Moose and the PlayRites appearance at ATP a few years ago this show has grown a pretty rabid fan base. What can fans expect to be different this time around?
We want the Hero (chosen from the audience) to have more control inside the narrative. The first significant change that fans will groove on is that we're inviting the Hero to cast the show. They get to choose which of us they want as their sidekick, and which of us they want as their villain. This will keep us on our toes not knowing what role we'll be playing each night, and it allows the Hero to customize their experience. We're also building in more open-ended choices for the Hero to make along the way.
Legend Has It features an all-star cast of improvisers. Can you tell us about them? How did you come to work with them, and how are they connected to Calgary, ATP, and Loose Moose?
Our cast this year has a combined experience in improvisation that totals 137 years! We all met each other and got our training at the Loose Moose Theatre. On stage you'll see Jamie Northan, my little brother & co-creator of "NE The Show", Christy Bruce, my best friend in the world who understudied Kim Catrall on Broadway, Bruce Horak, my long-time creative partner and genius, and Josh Bertwistle who is a pal & amazing mask performer. Improvising sound is Ellis LaLonde, our youngest company member who I met when he was 16, and I have yet to discover anything that he can't do. Renee Amber is our assistant director. I met her at Loose Moose when she was 12. Her outside eye is invaluable.
How do you and your cast-mates decide who will be your "Hero"? Is audience participation mandatory?
We never choose someone who isn't open to being picked! We want our Hero to have a good time. The cast mingles in the lobby before the show to get an idea of who is there and who might make a good Hero. We look for someone who is friendly, open and kind. The sort of person you'd want to hang out with if you met them at a party.
Do you ever hear from your Heroes after the show?
Oh yes!!! We stay in touch with a lot of our former Heroes! Thanks to social media, we get all kinds of updates from people. A few of them have even become friends. Once someone has been a Hero, they tend to return to see the show from the audience at least once or twice. It's always really cool to see former Heroes meet each other and compare their Adventures - they belong to a fairly exclusive club!
Who is Legend Has It good for?
Everyone! Seriously. Ages 6 - 106. You don't have to get on stage to have a good time. The thrill is in watching and knowing that not even the actors know exactly how the story will unfold. Fans of the Fantasy genre, cos-players, gamers, and thrill-seekers will have a whole other level of enjoyment.
Finally, what is a Mumpling?
Mumplings are the black-nosed creatures of Jaro. They live near nature and are full of magic. Our hero will meet a few of them along the way on their journey, but of course, we never know who we'll meet…
Legend Has It run at Alberta Theatre Projects from November 24 to December 31. On December 31, there will be a special New Year's Eve event as well! For more details and to buy your tickets, visit http://atplive.com/whats-on/legend-has-it/
---