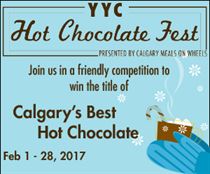 YYC Hot Chocolate Fest is the friendly and delicious competition to find the local business who offers Calgary's Best Hot Chocolate and Calgary's Best Spirited Hot Chocolate, as voted by Calgarians!
Over 75 local cafes, restaurants, and chocolatiers are offering more than 80 hot chocolates for Calgary to enjoy. The best part? All of these delicious hot chocolates support a great cause! Partial proceeds from each hot chocolate sold will support Calgary Meals on Wheels' Home Meal Delivery Program, serving over 700 Calgarians with nutritious meals every day. Sip with satisfaction all February long on these delicious signature hot chocolates across the city.
There are 20 different downtown participants partaking in YYC Hot Chocolate Fest, and we have teasers of some of them here!
Cafe Blanca's "Hazelnut Heaven"
Coppeneur Chocolatier's "Maya Drinking Chocolate"
Hyatt (The Sandstone Lounge/Thomson Restaurant)'s "The Double Back Flip"
Fionn MacCool's Irish Pub's "Irish Car Bomb"
Other downtown participants include:
Caffe Artigiano
Waves Coffee House
ONE18 EMPIRE
Monogram Coffee
Paper St
The Bean Stop
Blenz Coffee
Cococo Chocolatier Bankers Hall
Oak Room Lounge, Fairmont Palliser
Analog Coffee
Teatro Ristorante
Cucina
Alforno Bakery & Cafe
Rosso
Pig & Duke
Coppeneur Chocolatier
Kaffeeklatsch (located within Plowshare Artisan Diner)
Calgarians are encouraged to rate each hot chocolate they've tried so the winners of 2017 can be determined. Visit www.yychotchocolate.com to see the signature hot chocolates, other participating businesses and locations, and to rate your favourites.
---