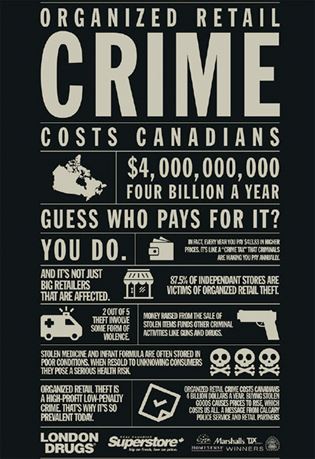 The Calgary Police Service wants to remind you that buying stolen goods comes with a cost!
Organized Retail Crime costs Canadians more then $4 billion each year, most of which is passed back to the customer in increased prices.
Stolen goods are often resold through classified ads, online sales, and flea markets. Here are some ways you can avoid purchasing stolen goods:
Purchasing new goods from licensed, reputable businesses only.
Comparing the price of goods to their typical market value. If a deal seems too good to be true, it probably is.
Asking sellers how they obtained the property and why they are selling it so cheap. If the answers do not add up, it should be a cause for concern.
Checking to see what else a seller has for sale when you come across new goods on online classifieds sites. If they are primarily selling new goods and are not a business, it should be considered a red flag.
While retail crime may seem minor, the Calgary Police Service warns that proceeds from this type of criminal activity often finances more dangerous activities like guns and drugs.
For more information on this topic, visit the Calgary Police Service website.
---