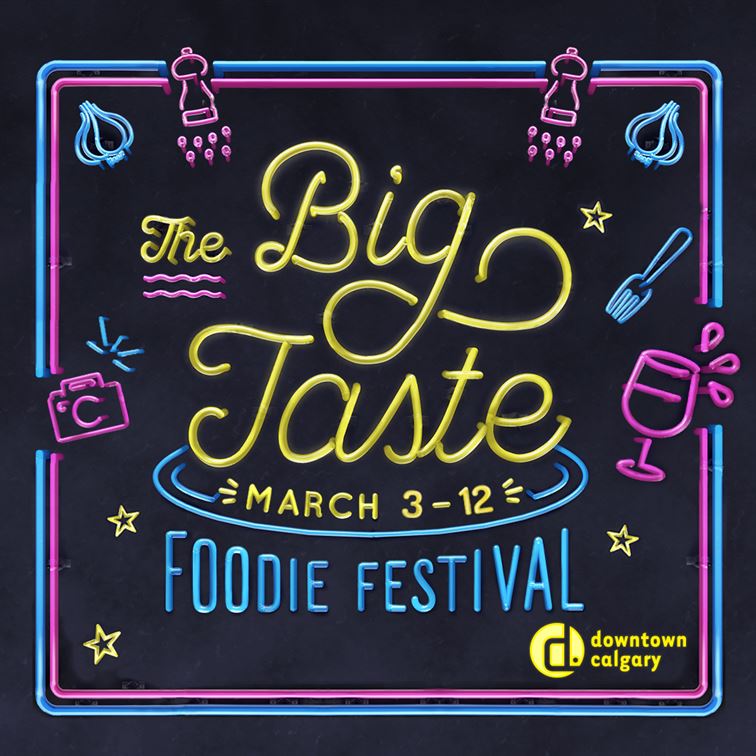 THE BIG TASTE - March 3rd - 12th, 2017
Join in as Calgary's best chefs feature three and five course fixed price menus of their best dishes. With nearly 100 restaurants to choose from, it's easy to get a Big Taste downtown.
Get ready to graze your way right across downtown as Calgary's brightest culinary talent presents amazing three and five-course menus for an easy fixed price. Open wide for The Big Taste 2017.
SCRUMPTIOUS LUNCHES
$15 or $25* / Person
THREE-COURSE
SUCCULENT DINNERS
$25 or $35* / Person
THREE-COURSE
GOURMET** MASTERPIECES
$65* / Person
FIVE-COURSE
*Taxes & gratuities not included.
**Gourmet includes 5-course meal with BC VQA wine pairings at an additional cost
12 different signature events will also take place this year. Tickets on sale now!
Check out the Big Taste website for more details.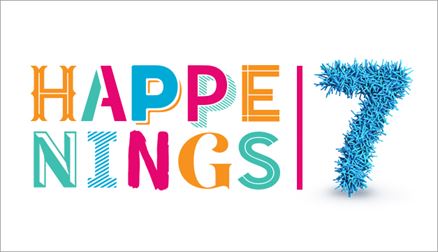 HAPPENINGS 7 AT ARTS COMMONS - February 27, 2022
Experience art in a whole new way with a Tactile Intrigue themed art party and artist reception. These artist receptions and art parties are designed for you to self-curate your own art experience. There will be NEW interactive art activities surrounding the theme tactility and live performances throughout the evening.
This is a free event, and takes place at the Arts Commons Centre-Court from 6pm-9pm.
GRACIE - ALBERTA THEATRE PROJECTS - Begins February 28, 2022
Gracie's world is full of faith and family, but as a fifteen year-old girl born into in a polygamous community, she feels increasing pressure to conform. Will she dare to take the leap and step into the outside world? In this stunning new show for one actress, we see the world through Gracie's eyes. A gripping and tender story about growing up unusual.
Showtimes vary, see here for showtimes and tickets.
MARCH DOC SOUP: FIRE AT SEA - March 1, 2022
Join CIFF at Cineplex Eau Claire on Wednesday, March 1 at 7 p.m. as they continue their season of the most anticipated and acclaimed documentaries.
More than 17,000 people were reported to have died trying to cross the Mediterranean in the last 15 years. The island of Lampedusa is the first port of call for hundreds of thousands of African and Middle Eastern refugees hoping to make a new life in Europe.
Nominated for Best Documentary at the 2016 Academy Awards® and Winner of the Golden Bear at the Berlin Film Festival, Gianfranco Rosi's poignant and deeply moving portrait of the Mediterranean island of Lampedusa - and the humanitarian crisis occurring in the seas around it - is both a masterly work of documentary filmmaking and a timely call for urgent action.
CRIME DOES NOT PAY - DOWNTSTAGE THEATRE - Begins March 2, 2022
Recognized internationally for work that is incisive, heartwrenching and darkly funny, Calgarians David Rhymer and Kris Demeanor have spun a true story into a brand-new musical that will plant gorgeous songs and explosive ideas in your head.
Bob arrives in the big city in the late 1940s with a sketchbook full of comics about how the little guy always gets pushed into the dirt by corporations and politicians, but publishers say there's no money in bleeding hearts. When Bob falls for Violet, a lounge singer with an abusive ex-husband, inspiration strikes! He gets his big break after sexing up his stories with 'babes and blood' - dark depictions of true crimes where the criminals are the heroes, in a hot new title called "Crime Does Not Pay".
The comics become an overnight sensation but inspire a backlash from children's advocate Eleanor Flood, who claims their racy content is spurring horrible copycat crimes. Turns out that the trappings of success, the threat of censorship and Bob's possessive love of Violet make for one dangerous cocktail.
Showtimes and ticket information can be found here.
---
For more events in Downtown Calgary, visit the Downtown Calgary Events Calendar. Want these events emailed to your inbox each week? Click to sign up for the Downtown Calgary Events Newsletter.
---