Inspiration is a wonderful and beautiful thing - when it comes to style, I obviously love seeing how people around me are dressing and celebrating personal style on the streets. Another way that I sometimes find inspiration is through window displays, which in recent years have become serious works of art. In YYC, this is especially true at Holt Renfrew. I love jumping on the train and cruising past when a new display is ready for viewing - and this is especially true during the holiday season, when they dazzle with even more bling in their displays.
I love colour, sparkle and a bit of extra shine, making the holiday season a great one to enjoy fashion, style and decoration that much more. Even a beautifully decorated Christmas tree can be a source of inspirational, as was proven by my shiny and gold ensemble at a recent holiday party.
So my advice is, while you do your holiday shopping, take a minute to appreciate the amazing art that lives in the windows of some of our favourite retailers and soak up some inspiration for the season and the new year.
The holidays is also the time when I try to slow down a bit to appreciate what the last year has brought - and of course, all of the amazing people that I've once again been able to meet and feature in my Street Style Huntress adventures. So not only do I want to wish everyone an amazing and safe holiday season, I also want to thank all of the beautiful, stylish and lovely friends and strangers that I had the pleasure of photographing in 2015 - check out the gallery at the end, which features just some of my favourite images and styles from the past year.
Happy Holidays!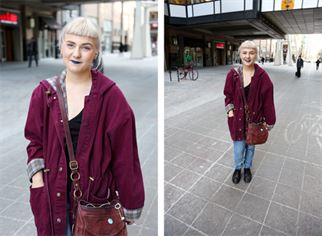 This slideshow requires JavaScript.
---