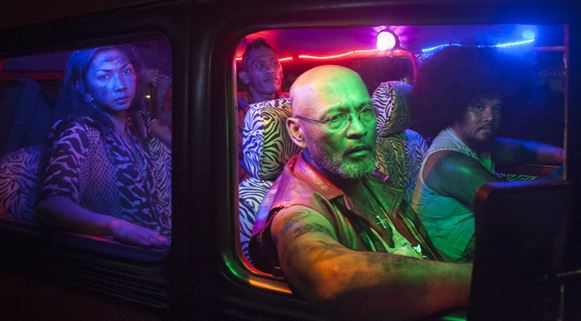 I have been a programmer with the Calgary Underground Film Festival for five years and my favourite question that I'm asked by CUFF attendees is "What is the weirdest movie at the festival this year?" Past suggestions have included (most of these are available via our iTunes store): Giuseppe Makes a Movie, Meathead Goes Hog Wild, I Am a Knife with Legs, Hard to be a God and Asphalt Watches. Even writing down those titles makes my little nerd heart flutter. Well my friends, I am happy to report we have a fresh crop of weird, wild and wonderful films for you to enjoy at the 2017 Calgary Underground Film Festival.
This slideshow requires JavaScript.
Alipato: The Very Brief Life of an Ember
Now I know what you're thinking from reading the synopsis, "This films sounds like City of God or something along those lines". Welp, that couldn't be further from the truth. Alipato is maybe the most punk-rock film I've seen this past year. From the opening title card "This is Not a Film by Khvan" you're then launched into a strange world of Anarchist children with weapons wreaking havoc on a town in ruins. This film is entirely lit with amazing neon lights and is mostly filmed in gorgeous long takes scored by extremely beautiful music. Trust me, you're gonna want to be the Cool Kid who saw this movie in the cinema before it becomes a classic.
Are We Not Cats
If you're at all titillated by the promise of a 'psychedelic, grotesque body-horror romance' then have we got a film for you! Are We Not Cats even made a gorehound like myself cringe during some of the more disgusting moments but the film also manages to be extremely compassionate and often quite endearing. Filmmaker Xander Robin is a rising star in the weirdo art-cinema world and we are thrilled to present his directorial debut.
Assholes
As you can likely tell from the title, this film features Assholes both metaphorically and literally. CUFF is super stoked to present this extremely dark comedy fresh off its SXSW premiere where it was called "Truly one of the most disgusting movies ever made" by IndieWire. You will cringe, you will laugh and you will probably gag a little bit. The fact that director Peter Vack asked his cast of family members to perform some of these scenes is a testament to the bravery and determination of this brilliant young filmmaker.
Love & Saucers
Sure, some people claim to have been abducted by aliens and sure, some of those folks have even reported to been probed a few times but no one else, to my knowledge, has claimed to have been abducted over 100 times by extra-terrestrials for the sole purpose of inter-species sexual relations. Love & Saucers is a first-hand account of 72 year-old artist David Huggins who chronicles a lifetime of encounters with otherworldly beings – including an long-term sexual relationship with an E.T. woman (who he claims to have lost his virginity to). The greatest achievement of this documentary is that it manages to be extremely non-judgmental and portrays David as a beautifully eccentric man with an otherworldly imagination.
Continuing the "sensual aliens" theme, CUFF is extremely honoured to present The Untamed to our unsuspecting audience. We fought hard to bring you this beautiful film and trust me, you have never seen anything like it. The personal narrative of people struggling with their bleak domestic situations contrasted with an alien who gives people what appear to be the best orgasms in the universe makes for the perfect sweet spot between art-house and underground that CUFF programmers are always on the hunt for. Chances are you might be watching this film through your fingers at times, I guarantee that you'll be unable to look away.
All these outrageous and beautiful films await you at the 2017 Calgary Underground Film Festival running from April 17-23 at Globe Cinema. To see what other amazingness we have in store for you, check out 
www.calgaryundergroundfilm.org
---