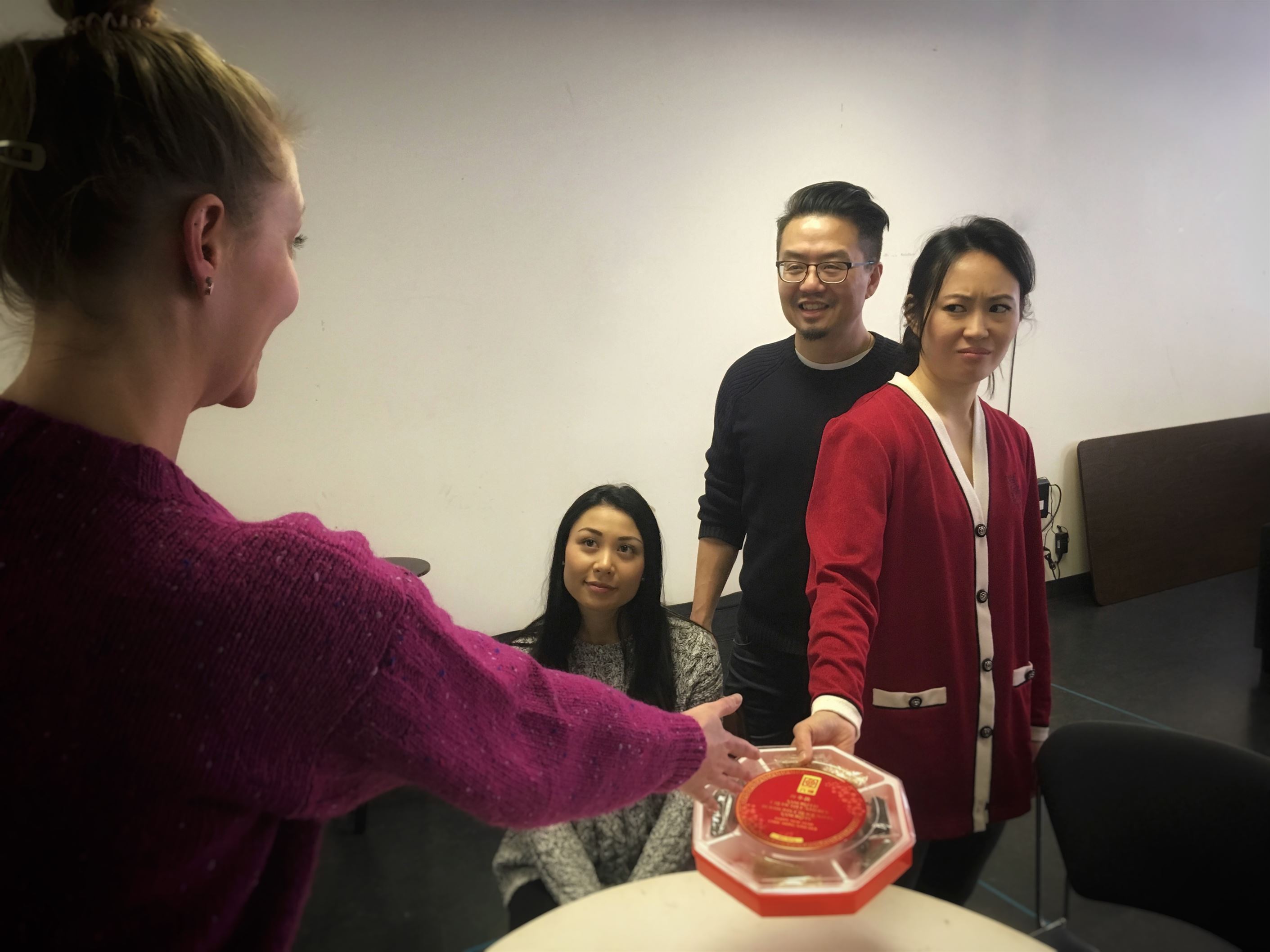 Jamie Matchullis (Foreground), Kelsey Verzotti, Ben Wong, Chantelle Han
What's a family dinner without some awkward conversations and secrets revealed? Lunchbox Theatre's newest production takes a close look at this near-universal experience. Ai Yah! Sweet and Sour Secrets follows a Chinese-Canadian family, the Wongs, preparing for their annual Chinese New Year dinner. With the invitation of a guest - a friend of his daughter Jade - Charlie Wong has introduced conflict to their dinner.
I sat down with director Trevor Rueger to chat about the script, production and the awkwardness of family conversations.
The play has been around for a number of years and playwright Dale Lee Kwong has continued to work on it. The script was developed through Lunchbox Theatre's Suncor Stage One Festival of New Work and now is ready for production.
"It's a story about a family dealing with an awkward situation and conversation. It's a daughter revealing something to her parents that she doesn't necessarily want to reveal," Rueger says.
"We've all been there, having a difficult conversation that we don't want to have. At the heart of any of those conversations, there are two things going on that you don't see in the moment. One of them is that the parents just want to protect the child, and make sure that the child is okay. And all the child wants is the independence and freedom to be who they are. I think that every family has that story in their family history."
Playwright Kwong has added an additional layer to the conflict as Jade struggles to have this conversation with her parents. "There is also cultural pressure and stigma and expectations," Rueger explains.
But the script isn't without its humour! "Dale is a great comedic writer and once the secret is revealed, it gets real," Rueger says. Writing one act can be a challenge, but "… she has done a masterful job using the one hour format to produce an in-depth and developed story."
Share in the secret with Lunchbox Theatre's presentation of Ai Yah! Sweet and Sour Secrets running from February 19 - March 10th. More information is available online.
---