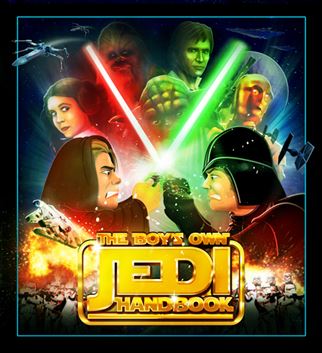 After first appearing on stage in 1997 as Ground Zero's first show, Stephen Massicotte's The Boy's Own Jedi Handbook is back for another round from February 11 - 21, 2016 at The Studio at Vertigo Theatre.
A not so long time ago in a theatre not so far away came a film that rocked the galaxy changing both cinema and schoolyards forever. This film was of course George Lucas' first installment of Star Wars.
Massicotte's The Boys Own Jedi Handbook masterfully explores the phenomenon through the eyes of an imaginative ten-year old. "The kid" has recently moved to a new town (a whole new galaxy for a ten year old), when a science fiction film sparks a life-changing friendship.
"We are absolutely thrilled to be bringing this show back to our stage. It's going to be like spending Christmas with an old friend," said Ryan Luhning, Ground Zero's Artistic Director, also directing this production.
Featuring Christian Goutsis - back as "The Kid" after the 1997 production - Karl Sine, Amber Bissonnette, and Sarah Wheeldon, the show comes back to the stage at the perfect time. "Hot on the heels of the mega blockbuster, we would love for you to join us in the theater for this tour-de-force production starring one of Calgary's finest actors, Christian Goutsis. And as always, we are thrilled to be teaming up with Hit & Myth Productions for this heart warming, hilarious production."
Tickets are on sale now, available at the Vertigo Theatre Box Office, and at 403-221-3708 or online at groundzerotheatre.ca.
---