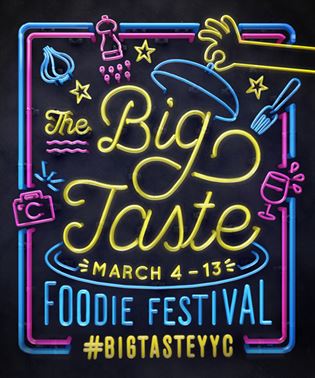 The Big Taste is back and it's bigger than ever! From March 4th to 13th, 2016
No jokes or hyperbole here, 2016 features more than 85 downtown and area restaurants participating in The Big Taste fixed price dining program, and features 15 culinary events! So Calgary's hungry foodies have many more chances to try some of the best food the city has to offer.
"What is The Big Taste?" you may very well ask…
The Big Taste is a 10 day dining festival that offers diners fixed price dining options at more than 85 restaurants in the Downtown Calgary area. Fixed price dining means you get 3 courses from a set menu for a flat cost! Lunches are offered at $15 or $25 and dinners at $25 or $35, which is a great deal considering these are some of Calgary's finest restaurants.
For just a bit more you can opt for a 5 course $65 gourmet menu and indulge in all the foodie goodness with optional BC VQA wine pairings offered at an additional cost.
"Tell me about these culinary events!" is another thing you may say…
The Big Taste Signature Culinary Events are special, "one night only" culinary events that feature the best in food and wine in an intimate setting. These ticketed events feature food, wine and special guests all included in the ticket price. Previous guests such as food expert John Gilchrist introduce each course with interesting anecdotes about the history of the restaurant, emerging food trends, and chat with diners. We also bring in wine experts to talk about the pairings, so you get a shot of knowledge with each meal! Tickets sell out fast, so get yours today!
"Could this possibly get any better?" is something you may be asking yourself…
Yes it can! Each year we run a contest to reward all of our social-savvy foodies who share their meals using the hashtag #BigTasteYYC. Using Facebook, Instagram and Twitter we randomly select photos that are tagged #BigTasteYYC and reward them with restaurant gift cards so they can enjoy even more of The Big Taste. At the end of the festival, we'll draw a grand prize winner that gets 12 gift certificates so they can enjoy a year of free meals from participating restaurants. For everyone who doesn't use social media we'll also be running a diner survey to see how we did. After you've had your fill, you can complete our diner survey and be entered to win restaurant gift cards, as well as a BC Wines Package! BigTasteCalgary.com/Survey (full contest rules and regulations coming soon, no entries will be accepted before March 3rd)
For full details on The Big Taste see the website http://BigTasteCalgary.com
---