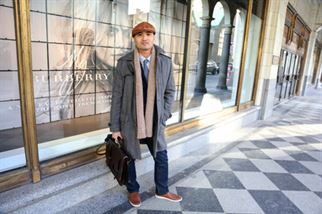 It's not just his personal style or his work that are stand-outs, but also Wilson Wong's enthusiasm and personal goals in supporting the arts - and his encouragement that we all do so as well - that really impressed me.
On the day we met to photograph and capture his fabulous personal style, Wong was adorned in a little bit of everything - an overcoat from Club Monaco, a blazer jacket from Topman, a Banana Republic shirt, a tie from Cedar Wood State from Primark London, and a vintage briefcase that he pulled out of his dad's closet - among other great items.
But it's not the diversity of stores that makes Wong's style so fashionable, it's his eye for detail, and the intimate, yet confident, personal vibe he carries and exudes. It's the effortless air, with a classic vintage feel, that really pull his entire look together.
How would you describe your personal style? 
I'm not one who likes to be the loudest in the room. I prefer a more intimate conversation so my style definitely reflects that. Confident, effortless and minimal with a bit of splash.
What are some of your influences when it comes to fashion? 
Movies, TV, internet, travel, magazines, friends and my dad. My dad is fearless when it comes to fashion. He's definitely the loudest in the room and that's what I admire about him.
I also have always been intrigued by the fashion scene in Japan. Love the diverse culture, their attention to detail and their strive for perfection and simplicity.
What are some of your favourite stores and shopping destinations in Downtown Calgary? 
Club Monaco, Banana Republic, Browns, Little Burgundy, Kixs, The Bay and I'm really looking forward to Simons coming to the Core! Also love shopping at Winners, especially when I find that unique one-off you know no one else will have in Calgary.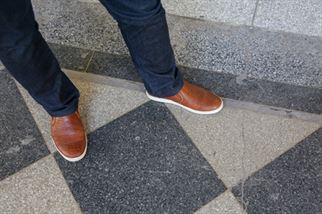 What are some of your favourite Downtown YYC spots? 
Eats & Drinks: National Patio, Local, Goro & Gun, Cucina, Great Taste Chinese Restaurant…too many!
Family Fun: Skating at Olympic Plaza
Out for a Jog: Prince's Island
What are some of your favourite trends right now? 
I am not a big trend follower nor am I a trend setter. I think it's important to know the trends to stay relevant. I'm more of a mid century classic vintage guy so anything that pays homage to that era I'm into.
What fashion advice would you give to others? 
Don't follow trends but be relevant. Invest in timeless pieces that fits your body type. Don't make jogging pants or tights your everyday attire, only if you're a yoga instructor.
Tell us more about the projects and work that you're involved with.
At CalgaryMovies.com (I'm a partner and Marketing & Sponsorship Director), we're always busy with making the site better and helping promote Calgary's local film festivals, events and talent.
Currently I'm also a volunteer committee member for TJG's La Nuit Sauvage fundraiser event happening on March 12, 2016.
What are some of your future aspirations?  
I want to continue my path to support and elevate Calgary's arts and culture. I'm constantly looking for ways to help others and to give back to the community. Hope to read and travel more.
How does your work influence your personal style?
Being the creative director at my firm I'm more in-tune with the latest trends in all industries, especially in Art & Design and Technology. I'm surrounded by creative people and diverse type of clients and and that fuels my own style. I also work with so many different types of clients and partners, which really influences me as well.
Anything you'd like to add or tell us about? 
I always hear people say there's not much to do in Calgary but that is not true. Our arts and culture scene is growing and there are weekly events that happen around town. Just the movie and film scene alone is pretty big [insert shameless plug here] which you can see on the CalgaryMovies Local Scene page. Just go out there and and support the Arts!!
---