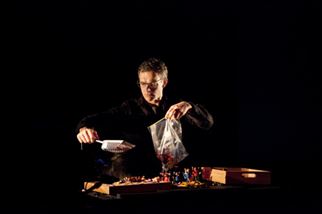 Onstage: a lone actor, a table, a camera and dozens of objects he will use to build and design imaginary cities. The metropolises in CITIES take on many forms. A bustling American metropolis with its many skyscrapers, for example, is transformed into a bar chart. A city made of wood blocks and mirrors experiences seemingly endless and formidable exponential growth, while a disco ball serving as a tourist town hides its true colours from its extravagant guests.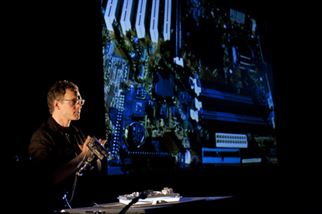 There are no typical scenarios nor conventional machinations, just characters in the throes of psychological transformation. With each city, the narrator presents a different view of the world, musings on time, and questions about human relations. The live camera offers spectators the rare privilege of experiencing two simultaneous points of view on the same object or the same event: both the live action on stage and the projected images.
With their signature low-tech approach, Olivier Ducas and scenographer Julie Vallée-Léger explore the symbolic and poetic value of objects as they create an unusual collection of imaginary cities.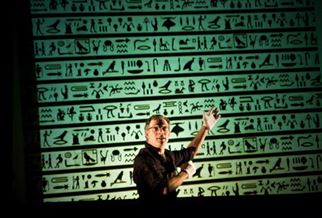 With this production, Ducas continues his reflection on the tension between reality and imagination, and on the overpowering influence of projected images, which he began in 2008 with Roland, la vérité du vainqueur.
"Sublime and brilliant." - Jean Siag, La Presse
"A first-class tour of imaginary cities where reverie, laughter, contemplation and exhilaration come together with Oliver Ducas' and Julie Vallée-Léger's creative folly." - Isabelle Brisebois, Le Droit
Tickets are on sale at theatrejunction.com or 403.205.2922. 
TALK THE WALK: Stop by Theatre Junction GRAND after Jane's Walk on Saturday, May 7th between 5 - 7 p.m. to share ideas in the spirit of urban thinker and activist, Jane Jacobs. We'll be sharing beer, wine, delicious bites from Workshop Kitchen + Culture and ideas about interaction and vibrancy within urban communities. Questions and a formal discussion to be meditated by d.talks at 6 p.m. To attend the free reception, RSVP to [email protected]
---
This has been a guest post by Theatre Junction.
---