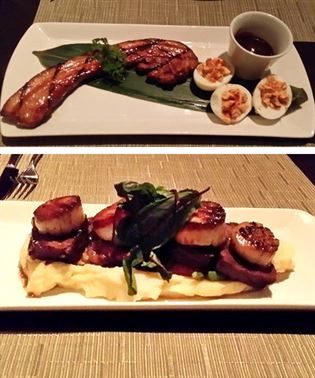 My husband and I are one of those couples that like to celebrate Valentine's Day by treating ourselves to a fabulous dining experience. This year, we decided to let Rush Ocean Prime spoil us.
Located at 100, 207 – 9th Avenue SW, Rush is not new to Calgary, but have recently renovated not only their interior, but their menu as well.
The hostess greeted us without delay, checked our coats and we were whisked to our table, which was a super-comfy booth located in the corner of the lounge. The restaurant is modern and classy, decorated with dark wood and leather. The lighting is subdued and along with the background music, this created the perfect ambiance.
A lengthy, sleek bar occupies one wall of the lounge and has plenty of seating for those wanting to keep an eye on the television while enjoying their favorite drinks and snacks. The dining room flows from the lounge and offers a formal and elegant dining experience.
Our server, who was extremely attentive throughout the evening, promptly filled our water glasses and took our drink order. The wine list is so extensive that if you come up dry after perusing it, the wine you like probably does not exist.
As the name suggests, Rush specializes in seafood and beef, but also offers a variety of other dishes such as rack of lamb and stuffed chicken breast. Since it was Valentine's Day, we chose to do "sharsies" and ordered the Prix Fixe menu for two (it also sounded yummy).
The first course, presented beautifully on ice, included shrimp, scallops and lobster claws along with three different sauces (horseradish, seafood sauce and another with shallots). All of the flavors were pleasing, but the shrimp were the star – they were enormous and luscious.
Bacon and deviled eggs were up next. This is obviously a perfect pairing! The eggs had a light, fresh flavor, while the grilled bacon was thick, yet crispy and deliciously salty.
The third course was braised short ribs topped with scallops and placed atop a bed of mashed potatoes, carrots and asparagus. The dish was flavorful and practically melted in my mouth.
Dessert was a buttercake with crème anglaise and berries. Wow, it was divine – there are no words to describe it. Just go try it. A couple of chocolate covered strawberries sat to the side, sadly ignored as we focussed our attention on the cake. Okay, I did eat some of the strawberry, I mean its chocolate. Then, we admitted defeat.
Rush created an outstanding experience for us from beginning to end. We will return.
If you can't make it for lunch or dinner, drop by for Rush Hour between 3pm – 6pm Monday to Friday. They have $2 fresh oysters, select $7 sushi rolls, $10 cocktails (choose from four) and featured wine.
Go to rushoceanprime.com to view the menus, check out their hours and to make reservations.
Editor's note: Rush Ocean Prime is one of the many restaurants taking part in the Big Taste this year. Learn more at BigTasteCalgary.com and follow along on social media with #BigTasteYYC
---