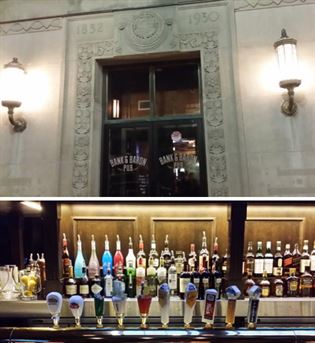 The Bank and Baron Pub opened in February 2014 and is located at 125-8 Avenue S.W, in the beautiful historic building that once housed the Bank of Novia Scotia.
Situated close to Theatre Calgary, Vertigo and the numerous other theatres in downtown Calgary, the pub is a leisurely stroll away and perfect for stopping by for pre or post-show food and drinks.
The "Coming Soon" banner on the building caught my eye early on during the renovation process and I couldn't wait to see the result and try the food and drinks. This was my first time in this space, so I had no frame of reference for before and after. All I know is that they created something spectacular.
The focal point is the impressive dark wood bar that sits in the center of the room, complete with shiny taps and plenty of bar seating. Several booths and tables surround the bar and mezzanine-type seating occupies the space near the high, high ceilings.
The menu includes a notable selection of appetizers, soups, salads, sandwiches, pizza, flatbread, entrees and desserts, with some unique options (Craft Beer Cheese Fondue!) amidst the choices. The Fried Chicken Club (chicken thigh with maple bacon and applewood smoked cheddar) was scrumptious. I chose the golden beet salad as my side, which was light and fresh and struck the perfect balance. My husband had the Short Rib Grilled Cheese and basket of chips - both looked delicious. I taste-tested the chips (just to be sure) and I was able to confirm my visual assessment.
If you are a beer drinking, you will not go thirsty at the Bank and Baron. They have a number of craft beers and several other draught beers on tap, as well as a large variety of bottled beer (including some of your favorite craft). The cocktail menu caught my attention and I ordered the Mex Currency – a delightful mixture of Tequila, Butterscotch Schnapps, Crème de Cacao, orange juice, dark cocoa and popping candy (yes!). My drink appeared sans popping candy, which I'm sure most adults would accept. However, the child in me was looking forward to this fun accoutrement, so I asked and was sadly informed that they were out of said candy. Since they had just opened, I chose to forgive them. However, suddenly my drink was whisked away and returned, adorned with popping candy! A+ for customer service.
Every bank needs a vault or two and theirs are located in the basement. This is one of the coolest features and they plan to convert one of the vaults into a wine and scotch tasting room. This makes it a truly exceptional space.
For menus, contact information and to make reservations go to bankandbaronpub.com.
You can also follow them on Twitter and Facebook.
---