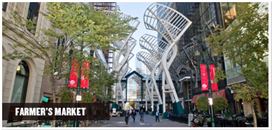 Market on Stephen Ave - May 10, 2022
Back for two iterations in May, this popular market is host to more than 40 vendors on Stephen Avenue. From fresh fruits and veggies, to pies, bread and beef jerky, you'll find something great at this market. Future markets happen every other week, including May 24, June 7th, June 21st, July 5th and July 9th. Weather permitting.

We'll be on the 200 west block of Stephen Avenue (8th ave, between 1st & 2nd Street SW) with volunteers from the Drop-In Centre giving away seeds to promote our Downtown Community Garden. Take the seeds home and plant them, or start them in your office and bring them to our community garden planting party later in May!
The Downtown Calgary Community Garden is on 3rd Street SW, between 5th and 6th avenue.

Flora & Fawna's Field trip - Until May 21, 2022
What does it take to be a NatureElles? Just be yourself! Meet our heroines Flora, Fawna and (later) Fleurette. Three odd-ball comrades offer a healthy dose of unpredictable shenanigans as they embark on a mission to create a safe place for girls (and boys) just like them!

Sherlock Holmes - May 14 to June 12
Threatened with blackmail over private correspondence with the Prince of Wales, legendary Victorian actress Lillie Langtry turns to famed detective Sherlock Holmes to get her letters back. With the nation's most precious jewels and the reputation of the monarchy at stake, Holmes must engage in a battle of wits with a former nemesis, Professor Moriarty, to solve the case. And when Oscar Wilde himself enters the scene, sparkling repartee abounds!

World Fair Trade Day - May 14, 2022
Come and celebrate World Fair Trade Day and participate in the World Fairtrade challenge to see how many cups of Fairtrade coffee will be consumed compared to other cities. The event will have performances, art displays, information on fair trade, give-aways, and you may run into a giant Fairtrade banana! Fun for the whole family, and free to enjoy.
---
To get great events like these emailed to you inbox each week, sign up for the Downtown Calgary Events Newsletter
---