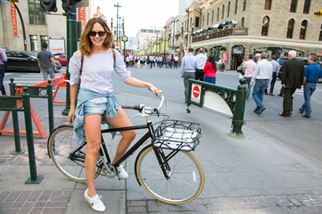 As springs hits and summer gets closer, I get really excited and the level of inspiration that I feel soars as festivals and cool events begin to take place. The energy in the city enhances and buzzes with a wonderful excitement, and I love capturing and finding style that is summer and festival perfect.
Because I'm so excited already and the weather has been so kind to us in YYC, I decided to venture out even earlier than usual to spotlight some great looks that will take you from festival events, to an an adventure on your bike, to an iced tea on a comfortable chair on Stephen Avenue - or whatever other adventures the lovely summer weather inspires you to try and get involved in.
In true Street Style Huntress style, I've included looks that have a 90's rock and roll edge that features a seriously amazing garter - but also a pineapple fanny pack thrown into the mix - flowy maxi dresses and skirts perfect for Folk Festival in July, denim and shorts that are too cool for words, accessories and prints that scream festival style, and of course a little bit of colour and print.
And let's not forget the super cool bikes that will hopefully take you all over the city to showcase your amazing summer frocks.
---