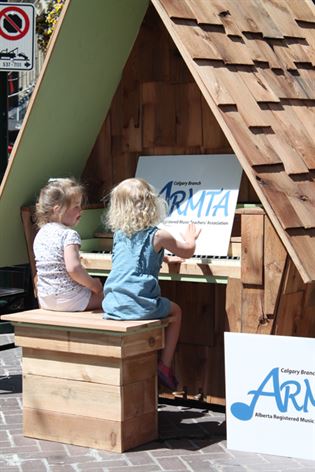 The Alberta Registered Music Teachers' Association - Calgary Branch is proud to present our annual Music Marathon on Saturday, May 28th from 10:00am – 6:00pm. This year, bigger and better than ever, we are partnering with the Downtown Association and Steinway Piano Gallery to present 8 hours of non-stop, open-air music in relay format.
Upwards of 150 students of local Registered Music Teachers will rotate without missing a beat playing various styles of music and instruments. We are excited to showcase the studios of 18 highly accomplished teachers and their students who will be performing on piano, voice, and cello.
Unlike most traditional recitals which are held in halls or churches, playing on an outdoor piano for the general public has gained Music Marathon the reputation among students as being the most fun and memorable event of the year.
Like a sports marathon, the idea is for students to collect "pledges" to run their part in the race and last year, through generous donations from participants, ARMTA Calgary was able to fund many new programs to enrich students' learning. The purpose of this event was to create initiatives for financially strained students, new teacher development and training scholarships, north & south Calgary student recital participation scholarships, and student master class opportunities. We have implemented these all with resounding success.
As part of the mandate to grow our organization's membership and expose the work of Registered Music Teachers to the general public, this event is free and open to anyone who loves music.
If you feel compelled to support student learning, donations can be made by cash or cheque in person at the event, or online through the ARMTA Canada Helps page at https://www.canadahelps.org/dn/24414, and donations over $25 will receive a charitable tax receipt. Please join us, bring a lawn chair, and enjoy an afternoon of beautiful music in downtown Calgary!
This has been a guest post on behalf of the ARMTA Calgary Branch

---