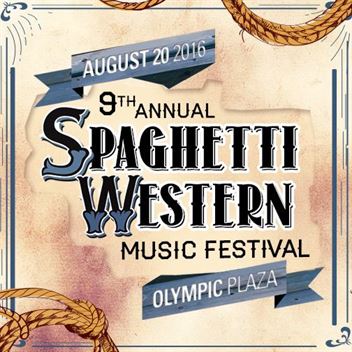 SpagWest Fest returns to Downtown Calgary for their 9th annual festival of indie/alt country music on August 20th at Olympic Plaza.
Also known as the Spaghetti Western Festival, this one-day country music festival was started by country crooner Matt Masters to celebrate new and exciting directions in Country and Western music.
Calgarians of all ages are invited to Olympic Plaza from 12pm to 9pm for an evening of amazing local and nationally acclaimed country, western and folk acts (See below for full artist line-up and bios).
To get a taste of SpagWest, Downtown Calgary is proud to bring MORE free performances downtown! Enjoy free noon-hour performances on the Stephen Avenue Summer Stage located on 8th Avenue SW outside Winners.
Catch Liz Stevens & Copperhead on Tuesday August 16th, Amy Nelson and Carter Felker on Wednesday August 17th, Shuyler Jansen on Thursday August 18th, and Steve Dawson on Friday August 19th! (All performances are FREE, family-friendly and weather permitting)
Here's the full line-up with bios for the big show on August 20th:
Romi Mayes // www.romimayes.com
Hailing from the prairies of Canada, Mayes is one of the hardest working independent musicians touring the globe today. Devil On Both Shoulders', her 6th full-length release, is another testament to why Romi Mayes' past albums have garnered three Western Canadian Music Awards for Songwriter of the Year, two Western Canadian Music Awards for Album of The Year, a Juno nomination for Album of the Year, and various Canadian Music Award nominations.

Steve Dawson // www.stevedawson.ca
A native of Vancouver, currently residing in Nashville, where he works as a solo artist, sideman, and record producer. Steve has recorded music of his own that has explored blues, jazz, Hawaiian, rock, slide guitar, and experimental. Dawson's latest release, 2016's "Solid States and Loose Ends" is a mesmerizing collection of new, original songs played with a band made up of some of the finest players from Canada and Nashville.

Yarrow // sixshooterrecords.com/artists/yarrow/
YARROW is the work of Ryan Boldt, frontman of The Deep Dark Woods, a band that crafted prairie psychedelics and a "loose grungy folk sound" (Paste) for flannelites. For nearly ten years the band developed an international following with particular success in the Americana realm, nominated alongside Alabama Shakes and Dawes for Emerging Artist of the Year at the 2012 Americana Music Awards.

Tim Hus // www.timhus.ca
Tim has a voice sweeter than a Husqvarna chainsaw, a wit that is sharper than rusty barbed wire, and a list of songs longer than a Saskatchewan fence line!
He's an Albertan through and through and one who takes the history of Canada seriously. One who looks deep into the eyes and souls of his subjects and finds out what makes them tick.
For the past decade Hus and his Travelin' Band have toured to every corner of the land and beyond performing their distinctive brand of Canadiana cowboy music.

Shuyler Jansen // shuylerjansen.wordpress.com
Since starting out in the Nineties with the Edmonton-based band Old Reliable, he has developed a niche as a singer/songwriter whose work is firmly rooted in traditional folk and country, while daringly incorporating electronica and avant-garde elements. His latest record "The Long Shadow" was released earlier this year has earned high marks from critics all across Canada. Deciding to put out his latest title himself, Jansen has started up his own label, Big White Cloud Records

Copperhead // copperheadmusic.bandcamp.com/releases
Formed in 2014, Copperhead has blazed on to Alberta's music scene blending dark, throaty motown, swaggering rock & roll and folk with a rusty edge. The Calgary based 4-piece have garnered comparisons to Cat Power and Anna Calvi. Winners of the 2014 Calgary Folk Festival songwriting contest, Copperhead have released their inaugural self-titled EP in September 2015.

Matt Patershuk // www.mattpatershuk.com
Born in Burns Lake, BC, and brought up in Edmonton and other prairie towns across Canada, Matt Patershuk is the real deal. A country man through and through, he wouldn't waste your time singing about things that don't matter. It's always good news when he leaves his tiny town of LaGlace, Alberta to tour or record an album, and this time around, he's created something really special.

Justine Vandergrift // www.justinevandergrift.com
Justine Vandergrift's clear, rich voice and finely-tuned song-craft bespeak an affinity with the likes of Patty Griffin, Bonnie Raitt, and Sarah Harmer, but her own brand of country soul has deeper roots than that, ones that dig into the hymns and folk songs of her central Alberta youth. Her three studio releases reveal a rare and irresistible knack for melody, and her new album Sailor (November 2015) represents a deepening of that artistry.
---