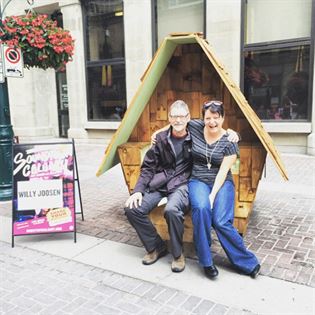 By Kenna Burima
As I sat Thursday afternoon in a comfy patio chair under the shade of a tall office building, the noon hour traffic buzzing behind the outline of the Woodlands Piano with beautiful music being played upon it; I was reminded of how this was a new experience for me. I looked around me and thought that in fact this may be a new experience for many Calgarians.
Not to put too fine a point on it, downtown Calgary for me has always been about work. It's fast paced, endlessly noisy, constantly changing, vibrating, screeching backdrop to people's lives have meant that I move from point A to point B without too much thought of what happens in the middle. I don't savor the smells of the community garden on 3rd Street right across from the Woodlands Piano. I don't sit on a bench and people watch. Even if I run into a friend; it's a quick wave or hello and I skip onwards.
Sitting in the shade at the Woodlands Piano on Thursday listening to Nathaniel Schmidt play an all Canadian contemporary composer set or basking in the sun on Tuesday listening to Calgary Flames organist Willy Joosen play one of my favourites, "Georgia", I realized that I was experiencing for a moment a perfect musical moment. They happen every now and then. I bet I miss them happening sometimes because I'm moving so fast or looking down at my phone or thinking of where I have to be rather than where I'm at.
Being in the moment or "mindfulness" is not something easily attained for me in the hustle and bustle of Calgary's downtown. We're worried about the economy, our jobs, our families, how we're going to make ends meet, how we're going to get ahead. Planning, plotting, engaging, scheduling, working, working, working. But what happens when instead of just getting from point A to point B, we stop? We just stop and pause for just a moment and listen.
I did that last week twice; just two times really and I was amazed at how it felt. The emails were still there afterwards, the phone calls still to be made, meetings to attend, but for one hour, I was beholden to no one but music and it was magical.
Every Tuesday and Thursday we have the opportunity to pause; to grab a coffee, sit in a chair or just stand; just for 5 minutes and be in the moment.
It's a different way of experiencing downtown Calgary and it's worth it.
This has been a guest post by Kenna Burima. She is a musician living and performing in Calgary and is currently coordinating the artists for the Downtown Street Piano Series. Learn more about Downtown Street Piano Series. She can be found on Twitter @KennaBurima
---